Childrens Playhouse Plans
Selection of Childrens Playhouse Plans
A few of the more popular childrens playhouse plans. Every boy or girl would love to have a place to call their own. It allows for them to act out the functions that they see their parents performing every day. Children are allowed to pretend and play out their fantasies and their dreams for the future when they have access to a playhouse. You can make your child's wildest dreams come true. When your child has a playhouse you will find that it is difficult to get them back home because they want to spend all of their time pretending and imagining.
You probably have all the tools needed: Circular saw (or hand saw), hammer, level, measuring tape, builders square, and other common tools.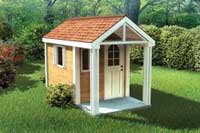 This project includes design features: Columned Front Porch, Decorative Window Cut Outs with Shutters (no glass). The blueprint plans include: Rafter Cutting Templates, Door Construction Details, 3-D Cut-Away Drawings, Floor, Wall, and Roof Framing Plans.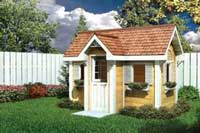 30-90025 - Traditional Playhouse
Let the imagination of your children soar with their very own playhouse. This project includes operable shutters, a Dutch door with decorative window grids (no glass). The plans include: Floor, Wall and Roof Framing Plans, 3-D Cut-Away Drawings, Dutch Door Construction, Rafter Cutting Template. Project measures 8 feet x 5 feet 6 inches.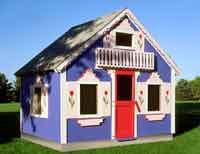 R14-1678 - Play-chalet Vintage Woodworking Plan
This playhouse has a certain fairy tale charm with its ornate balcony, shutters and flower boxes. Even the most restless group of children will spend many hours playing in their own little house. Construction will go quickly since very little framing is required. Full-size patterns are provided for all the curved trim pieces.
Choose from this selection of plans to build playhouses, treehouses and forts.
More Children's Playhouse Plans including free plans for experienced do-it-yourselfers from the publishers of Popular Mechanics. 
It represents quite an investment in time and materials. This is really a garden shed to be used for storage when the kids outgrow it. 
This is no ordinary playhouse, it may need a building permit.