Larry's Rocking Horse
by Larry
(Tucson, Arizona)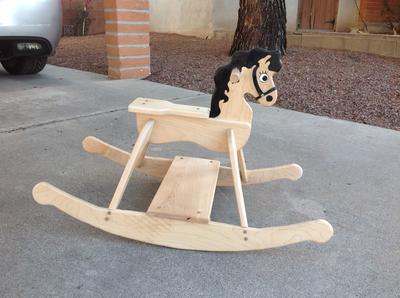 Larry from Tucson, Arizona, made this delightful rocking horse for his granddaughter who lives in Boston.

December 2nd 2015:

This is where I am now. Solid hard maple wood. The plugs on the rockers are walnut.
I'm going to take it apart and travel to Boston with it in my suitcase. My son and I will assemble it there for my grand daughter. Thanks for the great plan. It was made from one 12'X 6" 8/4 board.

December 12th 2015:

I just finished the pony today. I'm taking it to Boston for my Grand daughter's birthday present. I did not glue and screw the major parts yet. It has to fit in my suitcase for the flight to Boston. My son and I will do the final assembly there at his house.

I made the halter from a racquet ball racquet grip, some pop rivets, and two brass nails. The paint is a water based paint. I turned the plugs to hide the screw heads on my lathe. They are maple and the darker ones are walnut.
why free plans
Most of the time, when something is offered for free, there is usually a catch. They invariably seem to want something in return.

Fortunately not in this situation.
I like free stuff as much as anybody, so these plans I have made are free to download. You can share them with your friends as long as you do not make any changes to the plans themselves.
But don't worry, that does not mean you have to make the toys exactly to plan.
You can also make as many toys as you want, any way you want to, and give them away or even sell them.  
In order to help pay for the cost of running this site, I do earn a small commission from helping other to sell their products. 
Making a donation would help me to be able to spend more time on designing and publishing more wooden toy plans.
Your contribution would be greatly appreciated, not only by me, but also by fellow woodworkers and makers of wooden toys.
Thanking you in anticipation, 
Tony Slattery.