Traditional Rolling Toy
Print ready PDF wooden toy plans for a traditional rolling toy. Instant download.
Easy woodcraft project for the beginner.
Traditional Rolling Toy
Use child safe paints or food colouring or leave it untreated.
Tools
Chances are the average home handyman will have these most of these tools already.
Power drill corded or battery powered.
Jigsaw, scroll saw or coping saw to cut the round shape.
Combination square a measuring tool I use all the time.
Can you ever have enough woodworking clamps?
Hacksaw to cut the dowel axles to length.
Wood file to round over all the edges.
Sanding block with 120 and 80 grit sandpaper.
Materials
For this free wooden toy plan, none of the dimensions are critical, so these measurements are guidelines only. This toy can be made from pieces of scrap timber.
19mm (3/4") thick timber, 90mm wide and about 200mm long.
8mm dia. dowel, 3 pieces 100mm long, pretty common.
25mm dia. dowel, 3 pieces 80mm long sometimes used as broom handles.
Wooden Toy Plans
Step 1
Step 1.
Cut two circle shapes from the 3/4" thick timber. 
Drill three holes about 20mm offset from the edge of each disc to fit the 8mm dowel.
This is how I make large diameter wooden discs using a simple but effective woodworking jig.
Step 2.
Cut three pieces of 8mm dowel to lengths of 110mm. Chamfer the ends to make it easier for assembly.
Step 3
Step 3.
Cut a slot in each end of the dowels with a hacksaw as shown in the photo. 
Make sure to cut in the same direction as the grain.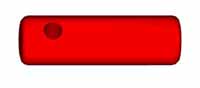 Step 4
Step 4.
Cut three pieces of 25mm dowel to lengths of 80mm. Drill one hole in each at least 16mm (5/8") from the end. Use the 8.5mm drill bit so that it will rotate freely around the 8mm dowel. Smooth and round all the edges. 

Step5 .
Glue the yellow dowels into one of the green discs. Thread the red dowels in such that the other end fits between the other two yellow dowels as shown in the illustration below.
Glue the remaining green disc in place and the toy rattle is complete.
More traditional rolling toys
Find for sale on eBay.
Visit the woodworking projects gallery to view projects from people all around the world.

why free plans
Most of the time, when something is offered for free, there is usually a catch. They invariably seem to want something in return.

Fortunately not in this situation.
I like free stuff as much as anybody, so these plans I have made are free to download. You can share them with your friends as long as you do not make any changes to the plans themselves.
But don't worry, that does not mean you have to make the toys exactly to plan.
You can also make as many toys as you want, any way you want to, and give them away or even sell them.  
In order to help pay for the cost of running this site, I do earn a small commission from helping other to sell their products. 
Making a donation would help me to be able to spend more time on designing and publishing more wooden toy plans.
Your contribution would be greatly appreciated, not only by me, but also by fellow woodworkers and makers of wooden toys.
Thanking you in anticipation, 
Tony Slattery.