Make Toy Trains
How to make toy trains for children. They can be made out of scraps of wood left over from other projects. Different colours and grain patterns add character to the project. I believe that young children are more appreciative of toys made of wood.

Wooden toys have a certain tactile feel to them that plastic can never have. There is no scientific evidence to support this idea, just a gut feel. Anyway, as a semi retired bloke, it gives me great joy to be sharing this resource with other people of like mind.
As a home woodworker with a very small shop and a handful of basic tools I have been searching the net for ideas for making wooden toy trains. 
This is what I have found so far, and will be adding to the list when I can.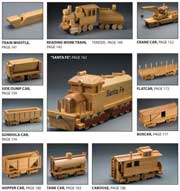 A few examples of how to make toy trains. These designs are available in the Great Book of Wooden Toys by Norm Marshall.
For the price of only $13.15 from Amazon you get more than 50 easy to build projects - including the toy train designs shown left.
New or used available from $9.15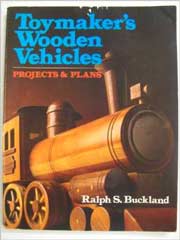 Toymaker's Wooden Vehicles: Projects and Plans by Ralph S Buckland available in paperback from Amazon, very reasonably priced at $7.85 new or from $6.00 used.
With some fine examples of wooden toy trains, it gets 5 stars from two customer reviews.
Handcrafted Wooden Toys another book by Ralph S Buckland.
Features 16 wonderful toy designs, including cars, aeroplanes, trucks and construction equipment.
Why pay more? Get a used paperback edition from only $2.49.

Imagine a whole book on Making Toy Trains in Wood for only 75 cents? Published in 1990, only used books are available today. Copies in better condition are available from around $3.50 Don't forget to add $3.99 for shipping.

Free Plans To Make Toy Trains
Free download full size patterns and plans of an 18th century switching engine.

Free toy train plans from AOK Corral Craft and Gift Bazaar.
Another free plan from the Woodworkers Institute, made from birch ply and oak offcuts.
Ivor Carlyle made this toy version of the famous Mallard steam train.
This free toy train plan is from the Shop Smith site. You may need access to a wood lathe to make the locomotive. You could make do with a hole saw and a drill press. There is only one sheet of plans, with a minimum of component parts. Detailed instructions and exploded views show how it all fits together.
A train and educational toy combined: the stacker shape toy train plans. Get your grandchildren to see how fast they can say "stacker-shape-toy-train." 

How to make a toy train table
Once you have made the toy train, why stop there? How to make a toy train table will give the little ones hours of fun.
Fill your toy train table with these trains and accessories.
Model trains for beginners. How to get started quickly and easily with your dream model railroad.
Share your photos on the woodworking projects gallery.