Scroll Saw Happy Easter
Free scroll saw happy easter patterns available as an instant download Portable Document File, easily printed on your home printer.

Easter scroll saw pattern found on Scroll Saw Village website. Simply click on the image to download the pattern.
Scroll Saw Letter Pattern
Download free Happy Easter scroll saw letter pattern (file size 77kb.) Look for a file called *happy-easter-scroll-saw2.zip*

Scroll saw Happy Easter pattern, instant PDF file size about 60kB.
Look for a file in your download folder with the name "happy-easter-scroll-saw.zip" Your computer should be able to automatically unzip the file, which contains two versions of the pattern.
Price: Free 

More Scroll Saw Happy Easter Patterns
05-WP-497 - Sign Post Bunny Downloadable Woodcrafting PDF
Our big Greeting Signs average in size 14 inches wide and 19 inches high and offer lots of options so look over the plan and mounting instructions to choose which option you prefer. The sign may be flat or layered, have an attached or suspended sign, may be wall mounted, used as a simple yard poke or mounted in a one or two post stand.
Price: $2.95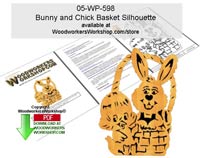 5-WP-598 - Bunny and Chick Basket Silhouette Scrollsaw Pattern Downloadable PDF
This Easter Day design is a good pattern for beginners to practice turns and points. The design features a bunny in a basket along side a little chick.
Price: $3.95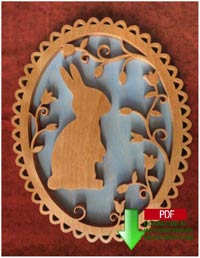 48-SLDK217 - Easter Bunny Overlay Plaque Downloadable Scrollsaw Pattern PDF
This cute little Easter Bunny plaque will add a touch of spring spirit to your home. This project uses basic techniques and simple overlay construction and comes with complete instructions. The delicate vines in this project may be a little tough for a beginner, however with a little practice, they could be done.
Price: $5.95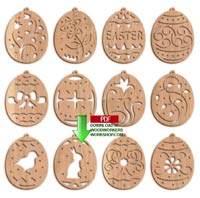 48-SLDK307 - Easter Egg Ornaments Downloadable Scrollsaw Pattern PDF
12 different designs included!! These fun Easter eggs can be stained or painted to make colorful decorations. This original pattern includes a materials and supplies list as well as complete instructions for preparing the wood, cutting and finishing. Finished eggs measure approximately 3 inches high.
Price: $5.95
A few free printable Christmas scroll saw patterns.
Projects Gallery
Share your project in the woodworking gallery, a place for you to view and comment on the works of other woodworkers from around the world.
Visit the woodworking projects gallery to view projects from people all around the world.