Playhouse Plans
You're bound to find the ideal playhouse plans - from basic sheds with a few embellishments to miniature Colonial mansions sporting all the architectural details.  A few of these projects are for patient beginners with minor carpentry skills, others state that the projects are difficult and require a certain amount of skill.

Include the lucky child or children who will be the new "homeowners" - it's a great way to teach kids DIY basics, give them a feeling of accomplishment, and share a hands-on experience together. Plus, you'll be the coolest adult in the neighborhood.

An active imagination is essential for a childs health and development. In this age of TV and computer games, it is more important than ever before to get kids to play outdoors.
A playhouse can be built by anybody who is handy, no special tools are involved. The best books on building playhouses include detailed plans, a materials list and a list of tools that you may need. Some tools are nice to have, but most of the time you can get by with hand tools. Why not get a woodworking friend to help out? Get the whole family involved so that they feel they have an investment in the project. This may well be the start of a whole new hobby, now you have the confidence and skills to build a few outdoor woodworking projects too.
Choice of Playhouse Plans
31-DP-00038 - Kids Country Cottage Playhouse Plans Downloadable PDF
Even if you do not make your children or grandchildren anything else this year, surprise them with this winner of a project. We guarantee that they will spend hundreds of hours in it and cherish every minute. They will think you are pretty special, too. Measures 61-1/2 inches long, 48 inches wide, 58-3/4 inches tall.
---
24-012 - Storage Shed Tudor Style Downloadable Plan PDF
When the kids outgrow this playhouse, it can be used as a storage shed.
Comprehensive building instructions include a web address for videos and visual aids for the successful completion of this project.
---
24-004 - Kids Play Fort Downloadable Plan PDF
A unique playhouse in the shape of a fort that will provide hours of fun for kids young and old! This detailed plan-set with step-by-step instructions is in both metric (mm) and imperial (inch) dimensions. The design includes a trap door entry, a climbing wall, a swing, and there is also a slide installation guide. The complete frame is fixed together with bolts, so as well as being very strong, the fort can also be dismantled.
---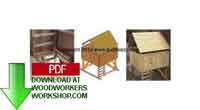 24-006 - Trapdoor Fort Downloadable Plan PDF
The trapdoor fort is designed to be self-supporting, which means that there are no posts to concrete into the ground. This allows the fort to be moved around. The complete frame is fixed together with bolts, so as well as being very strong, the fort can also be dismantled. The building of this project is broken down into two stages. Read more...