Free Rocking Horse Plans Andy
There are two versions of this rocking horse project, the original with a seat height of 500mm (20 inches) and Andy Junior with a seat height of 350mm (14 inches.)

Tools
These are some of the tools used to complete free rocking horse plan Andy.

Power Drill
Band saw or jigsaw.
Tenon saw.
Combination square.
Builders square.
Sliding bevel.
Smoothing plane.
Woodworking clamps.
Optional Tools
To make duplicate parts such as the legs, I used a router mounted in a (shop made) router table with a pattern cutting bit.
The router is also useful in rounding over the edges.
Materials
These two projects have been designed to use 19mm (3/4") project timber that is easy to obtain from your local timber supplier and most hardware stores. Sometimes called white wood. The handle is a piece of dowel that just happens to be the same size as a broom handle.
For the eyes, you can use wiggle-eyes from your local craft or novelty store. Use ribbon or imitation leather about 10mm wide for the bridle.
Step by Step Instructions
Use the full size patterns to make templates. I find the templates useful to mark out the pattern directly onto the timber to minimise waste.
The templates are used as a guide for cutting out and then trimming with a trim bit mounted in a router.
Step 1
Photo shows how the template is used with a trim bit mounted in a router. The template is attached to the workpiece with double sided tape. 

Photo shows the component parts cut out, edges rounded over and sanded smooth, ready for assembly.

Showing an exploded 3D view of how the parts fit together.

With one screw attached to allow the leg to swivel the sliding bevel is used to measure the angle. Drill a pilot hole for the second screw.

Showing the head in position with the infill. Note the legs are not attached in this photo.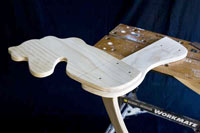 Photo showing the head attached. Note this time the infill is not shown.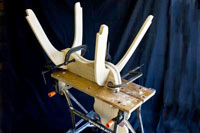 Photo showing the other body side glued and clamped in place.
All that remains is to attach the rockers and the platform and you have a brand new rocking horse.
Download Free Rocking Horse Plans Andy
 I am happy to share these plans for free, without any obligation to pay anything.
Download free rocking horse plans Andy.
However, any contributions towards the cost of running this site would be gratefully accepted.

A Quick  note about these plans
Please note these plans are a digital PDF document in the form of a zip file that is about 1.6 Mb in size.
You can follow the instructions from your mobile device (if you have one) but you will have to print the plans on your home printer.
If you don't have a printer at home, you may prefer to have the files printed at your local office stationary supply or maybe even the library.
Good luck with the project, and I hope to hear from you soon.
More Rocking Horse Plans
Here are two more free plans that you can download.
Here is a selection of rocking horse plans for sale from Jim Barry's Woodworkers Workshop.
Visit the woodworking projects gallery to view projects from people all around the world.

Support this site
I have tried to keep the plans I have made free to download.
In order to help pay for the cost of running this site, I do earn a small commission from helping other to sell their products. 
Making a donation would help me to be able to spend more time on designing and publishing more wooden toy plans.
Your contribution would be greatly appreciated, not only by me, but also by fellow woodworkers and makers of wooden toys.
Thanking you in anticipation, 
Tony Slattery.