Woodworking Tools

The right kind of woodworking tools will make all the difference to your enjoyment of the hobby of making wooden toys and other small woodworking projects.
You can make wooden toys with just a few hand tools. 
making a wooden hand plane
For a long time, I have been thinking about making a wooden smoothing plane. A little while ago, I received the ultimate incentive when my trusty Stanley smoothing plane was knocked off it's perch and broke on the concrete floor.
A visit to my local hardware store to discover a new one would cost more than $200.00, more than I can afford right now.  So I decided to make a new wooden smoothing plane based on these plans.
Also had a look for woodworking hand planes on eBay.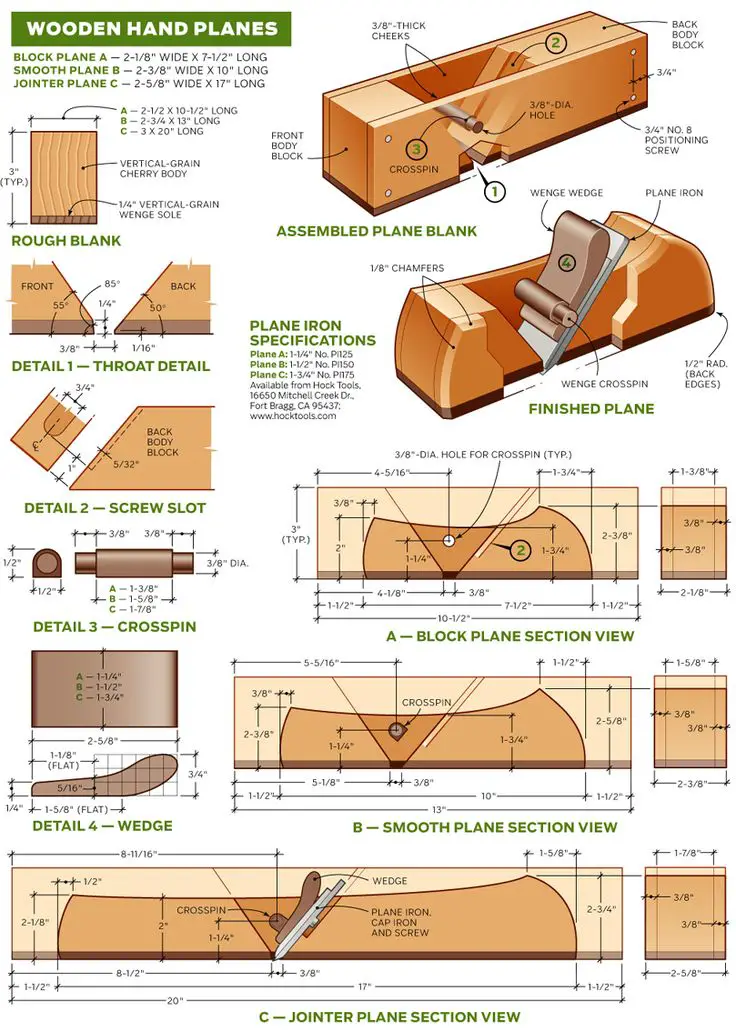 Wood Hand Plane
So I decided to make a new wooden smoothing plane based on these plans. Not entirely sure who they belong to, but there is a link to hocktools.com if you need to buy the plane iron.
In the illustration, there are 3 types of wood plane:
Block Plane
Smooth Plane
Jointer Plane
I decided on the smooth plane because that is the one I am replacing.
One day, I would like to make the jointer plane as well.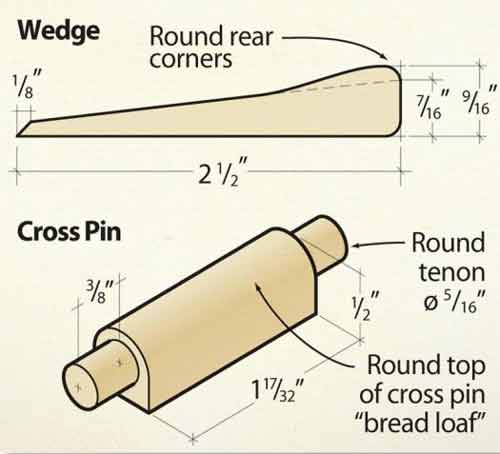 Cross Pin & Wedge Detail
This is another way of making the wedge and cross pin.
To make the cross pin, I would need a plug cutter, something I don't have, so I made one using a 19mm diameter dowel with a hole drilled through for a 9mm dowel, and shaved off a flat area to create the "bread loaf" shape.
This is a photo of the cross pin I made.
How to drill a hole through the long end of a dowel.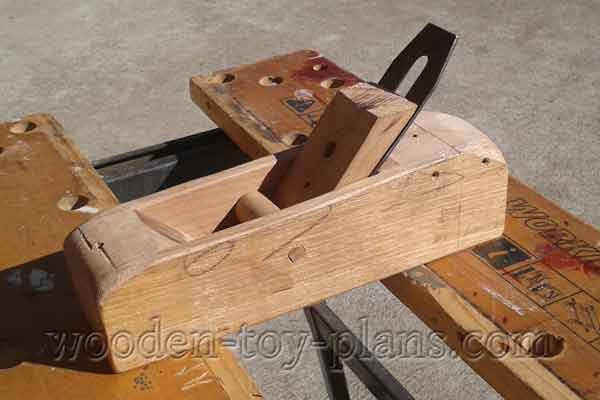 Wood Smoothing Plane Click to Enlarge
This is a photo of the wooden smoothing plane I made. Maybe it's not that pretty, but it does work.
Made from bits and pieces.
Workbench
The most important tool in your workshop does not even look like one because it is fact your workbench. If you think about it, it form the very foundation that all your projects are built on.
That is one reason why the right woodworking workbench is so important that many books have been written about them.
My first workbench, if you can call it that, was in fact the Black & Decker Workmate. Still have it today, although don't always use it as a proper workbench, more of a support for things like my home built router support.
When I realized that I really did need a proper workbench, I could not find any plans that were suitable for any number of reasons, so I decided to design my own woodworking workbench. You can download the free plans here.
Measure twice, cut once is a truism often quoted, and with good reason. Here are a few of the essential tools to help you do just that.
A combination square is one measuring tools I use all the time.
Shop for Tools on ebay
Black & Decker Workmate
Dual working heights allows use as a workbench, bench tool stand, vice, or sawhorse.
Durable steel construction.
Folds flat for compact storage and easy transport.
why free plans
Most of the time, when something is offered for free, there is usually a catch. They invariably seem to want something in return.

Fortunately not in this situation.
I like free stuff as much as anybody, so these plans I have made are free to download. You can share them with your friends as long as you do not make any changes to the plans themselves.
But don't worry, that does not mean you have to make the toys exactly to plan.
You can also make as many toys as you want, any way you want to, and give them away or even sell them.  
In order to help pay for the cost of running this site, I do earn a small commission from helping other to sell their products. 
Making a donation would help me to be able to spend more time on designing and publishing more wooden toy plans.
Your contribution would be greatly appreciated, not only by me, but also by fellow woodworkers and makers of wooden toys.
Thanking you in anticipation, 
Tony Slattery.