Free Workbench Plans
These are the free workbench plans for a work table that I designed and built for my woodworking hobby. I was looking for a heavy duty workbench that I could build with the basic hand tools that I have. 
Features
I had the idea of using laminated timber to minimise the cutting of mortises and tenons.
To do this, I used 3 pieces of 19mm by 65mm project timber, leaving gaps for the mortise, and the middle piece to form the tenon. 
Mortise Joint
The photo shows how the mortise is formed in the leg of the frame.
Laminate three pieces, with a gap in the middle piece to form the mortise. 
Cutting a tenon is a lot easier, so for the stretchers, I used two pieces laminated to form a single piece 38mm thick by 90mm wide. 

How to fix the bolts
Next was the issue of the reinforcing bolts. Not having a proper drill press, I knew it would be next to impossible to drill a hole longitudinally with any degree of accuracy. Here again the idea of lamination came to the rescue. Instead of drilling a long hole, why not cut a groove on the inside face of each laminate, as shown in the photo below.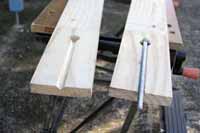 Photo showing the groove cut into the facing sides of the laminate, with the threaded rod with nut and washer resting on one side.
In this example, I cut the groove with a v - shape bit mounted in a router, cut to half the depth to fit the 9.5mm threaded rod. 

For the top, I was planning on using a single sheet of MDF, and laminate that as well. Basically, cut the sheet into three pieces and laminate them with contact adhesive.
As things worked out, the need for cutting mortise and tenon joints was not completely eliminated, but minimised. It turned out to be a pretty good compromise - a relatively cheap easy to make workbench that does not rack at all and as the joints are not glued, it can be taken apart as well, but as to why anyone would want to do that escapes me. Oh, hang on, maybe for transporting, after all it is rather heavy.

Fixing The Top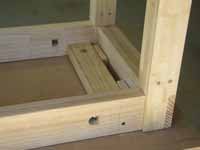 Attach the worktop
To fix the worktop to the frame, I simply attached a two by four block of wood to the underside, and a woodscrew through the frame.
The photo shows a pair of spacer blocks to complete the ensemble.
Materials
This is a list of materials that I used for making my workbench. 1 sheet of 16 or 18mm thick MDF 1.2m x 1.8m (8 ft x 4 ft) 19 x 90mm Pine 12.0m long 19 x 90mm Pine 8.5m long 19 x 65mm Pine 9.0m long 9.5mm threaded rod four lengths 750mm long 8 x 10mm nuts, 8 wingnuts and 16 washers 8mm dowel 2.7m long in total

Tools
This is a list of tools that I used to make this workbench:
Power drill corded or battery powered. 
Tenon saw, also known as a back saw. 
Combination square. 
19mm & 10mm woodworking chisels 
Woodworking Router 
Router bits - straight cut and v-cut 
Finishing plane 
Clamps - I can never have enough
20mm spade bit
Dowel locators 

Download Free workbench plans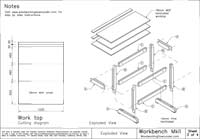 Free Workbench Plans
Free workbench plans includes step by step instructions with photos. Compact and sturdy, ideal beginner project. 

Ask me anything, share your project
Here you can ask me anything, share up to 4 photos of your projects.