Woodworking Project Plans
A few woodworking project plans that can be made by the average handy person with a few hand tools. These are some of the projects I have made over the years, plus a few more woodworking project ideas.

Home Improvement Projects
Make a tall bookshelf with these wooden bookshelf plans.
I have made a few of these over the years. Here I am using melamine coated shelving boards.
This bookshelf design can be adapted to almost any size you want.
Furniture Woodworking Plans
How to make Mission Furniture with these chair woodworking plans. Includes sketches with dimensions, list of parts and a choice between metric and the original chair design in inches.
The metric version of these woodworking project plans is optimised for standard timber sizes.
This Morris chair features an adjustable backrest.

Workshop Project Plans
Everyone needs a sturdy workbench. This is my workbench that I designed and made, and you can download the free workbench plans.
The frame is laminated with stock timber, no machinery needed. Easy mortise and tenon joints even a beginner can make.
I made a very basic router table  to fit into a Black & Decker Workmate.
With a little modification, it can also become a worktop wood router.
Looking for ideas for making sawhorse plans. This is a light duty folding sawhorse that would also make an elegant trestle table support.
This is often the first woodworking project made by beginners.
In my small workshop, I need to move heavy things around to create enough space to work in. So I plan on making a mobile tool base for my workbench.

Gift Projects
Gift projects for the home, useful items you can make for friends and family.

How to make a spice rack for all seasons. An easy woodworking gift project that will prove to be very useful in the kitchen. 
Made with project wood, a jigsaw and an electric drill.
Read more about how you can make this woodworking gift project.
Make a pair of bookends. These plans are free to download. Easy scroll saw project, or use a jigsaw or a band saw if you have one.
Great gift for the home. Something to sell at craft markets.
Read more about easy woodworking projects.
Make this artist easel with these free artist easel plans.

A lightweight design that can be made by anyone with handyman skills. It can also be used as a display easel. 
I made this one from project timber using a hand saw and an electric drill.
The free plans include a cutting diagram and building guide.
Free display easel plans made from a few bits of scrap wood, a great gift project, handy for displaying frames photographs.

I made this wastepaper bin as a decoupage item using 6mm MDF. It was easy to make using a few hand tools.
Download the free woodcraft plans include step by step instructions with photos and diagrams.
Easy to make DIY folding massage table from these free woodworking project plans.

I made with project timber using basic tools, including a staple gun for the upholstery.
Scroll Saw Woodworking

Toys and puzzles you can make with scrap or recycled wood.
A few free printable Christmas scroll saw patterns.
Have fun making Scroll saw puzzle patterns
Desktop rocking horse. A doll size version of my design Andy rocking horse.
Desktop motorcycle rocking horse. Another doll size rocking horse, this one in the style of a Vespa scooter.
Want something with wheels? Robust wooden toy motorbike plans includes a 4 wheel version.
Something you can make with a scroll saw using scrap wood.
Batman rides again. Another motorcycle scroll saw pattern.

Burr Puzzles
Make the seven pieces of the Soma cube puzzle with a hand saw and a mitre box.
Drive yourself and your friends crazy trying to form the original cube, or you can check one of the many  Soma cube solutions.
Make a 3 piece burr puzzle using similar technique to the Soma cube puzzle.

Playhouse plans
If you ever wanted to build a kids playhouse, why not a crooked house? I have made a set of basic dimensions using the SketchUp program.
I made one using cardboard, and to my surprise, it folds flat if you take the roof off. Great for storage.
Follow this link to read more about free wooden playhouse plans.
Vintage Woodworking Project Plans
The 24ft PM houseboat first published in Popular Mechanics December 1959.
All the woodworking project plans found on this page are designed by me to be made with just a few basic woodworking tools, using project timber that is readily available in most hardware stores.
Woodworking Project Ideas

DIY Electric Scooter
I had this crazy idea of turning a furniture trolley into a 3-wheel scooter. It does work, but it would work better if I had two 12 volt batteries and a more powerful electric motor.
Read more about my DIY electric scooter.
SketchUp Models
My adventures in 3D modelling with Sketchup. Some of these projects I have made, some are projects I would like to make, and some are simply 3D models I made to improve my skills in 3D modelling. At the time of writing, there are 41 models in the collection.
Simple Furniture Plans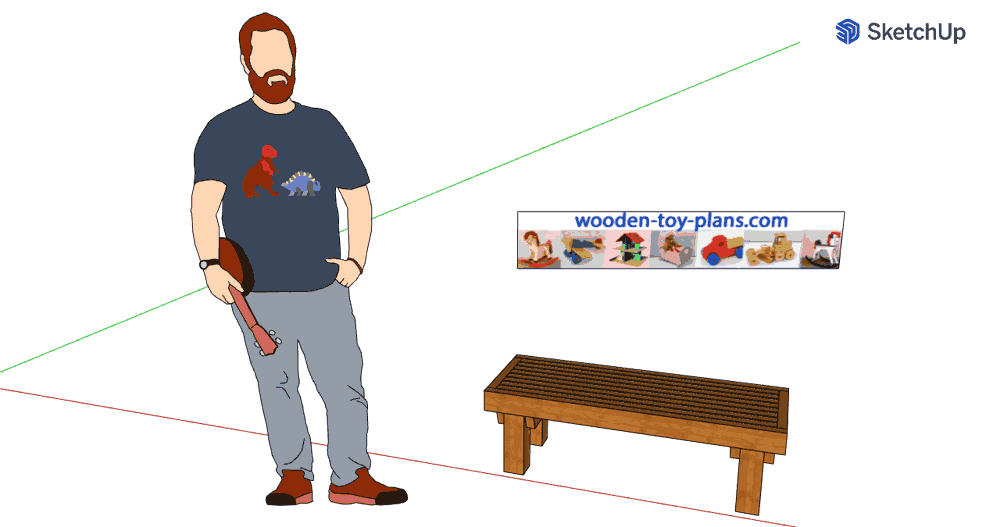 A deck bench I modelled in Sketchup.
A large Soma Cube puzzle. Each cube is 600mm in size, so the complete puzzle is 1.8m tall. Modelled as an open frame.