Woodworking Project Plans
A few woodworking project plans I have made over the years, plus a few I would like to make one day.

Everyone needs a sturdy workbench. This is my workbench that I designed and made, and you can download the free workbench plans.
The frame is laminated with stock timber, no machinery needed. If you are a beginner, and have never made a mortise and tenon joint, I have simplified the process.

I needed to mount my Makita D-handle upside down, but I did not want the hassle of making a complete router table with all the bells and whistles. 
It has been designed to fit into a Black & Decker Workmate, but can also become a worktop wood router.
Small Woodworking Projects
Desktop rocking horse. A doll size version of my design Andy rocking horse.
Fun scroll saw project.
Desktop motorcycle rocking horse. Another doll size rocking horse, this one in the style of a Vespa scooter.

Want something with wheels? Robust wooden toy motorbike plans includes a 4 wheel version.
Great gift for the home. Something to sell at craft markets.
Easy woodworking project with full size pattern.
I made this for the front of the house, and put some pot plans on it.
How to make a spice rack for all seasons.
A very simple, easy to make project that will prove to be very useful in the kitchen. 
Made with project wood, a jigsaw and an electric drill.
Instructions and diagrams included in this free PDF download.
All the woodworking project plans found on this page are designed by me to be made with just a few basic woodworking tools, using project timber that is readily available in most hardware stores.
More Woodworking Project Plans
Easy to make DIY folding massage table from these free woodworking project plans.
I made with project timber using basic tools, including a staple gun for the upholstery.
Make this artist easel with these free artist easel plans.
A lightweight design that can be made by anyone with handyman skills. It can also be used as a display easel. 
I made this one from project timber using a hand saw and an electric drill.
The free plans include a cutting diagram and building guide.
I made this wastepaper bin as a decoupage item using 6mm MDF. It was easy to make using a few hand tools.
Download the free woodcraft plans include step by step instructions with photos and diagrams.
Easy Wood Projects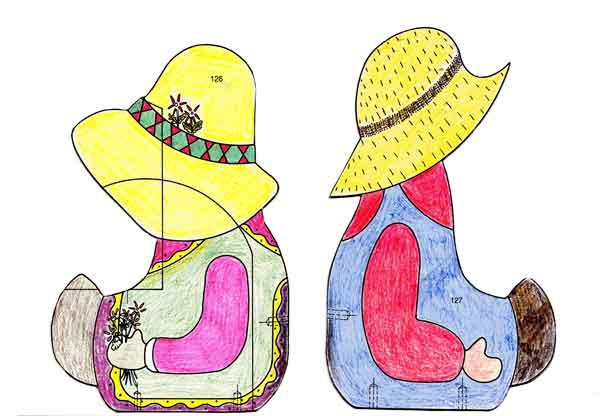 Make a pair of bookends. These plans are free to download. Easy scroll saw project, or use a jigsaw or a band saw if you have one.

Work in Progress
I had this crazy idea of turning a furniture lifter into a 3-wheel scooter. It does work, but it would work better if I had two 12 volt batteries and a more powerful electric motor.
Read more about my DIY electric scooter.
Ask me anything
Ask me anything, post a comment, upload up to 4 photos of your projects.

Let me know what you think.

If you have seen a picture in a magazine or have a photo of something you would like to make, upload it here and maybe, just maybe I can help you.

Even better, there may be someone else out there that can help you too.