Dolls House Plans
Art Deco Dolls House Plans
The Art Deco dolls house plans I found in an article in the January 1937 Popular Mechanics magazine. There is enough detail in the article to make one, so I made a Sketchup model. The link will open the Sketchup app in a new page.
So far I have only made a very basic model to get an idea of how it all fits together.
If you have experience in using Sketchup, no doubt you will find it easy enough to separate the parts and make a proper layout drawing with dimensions.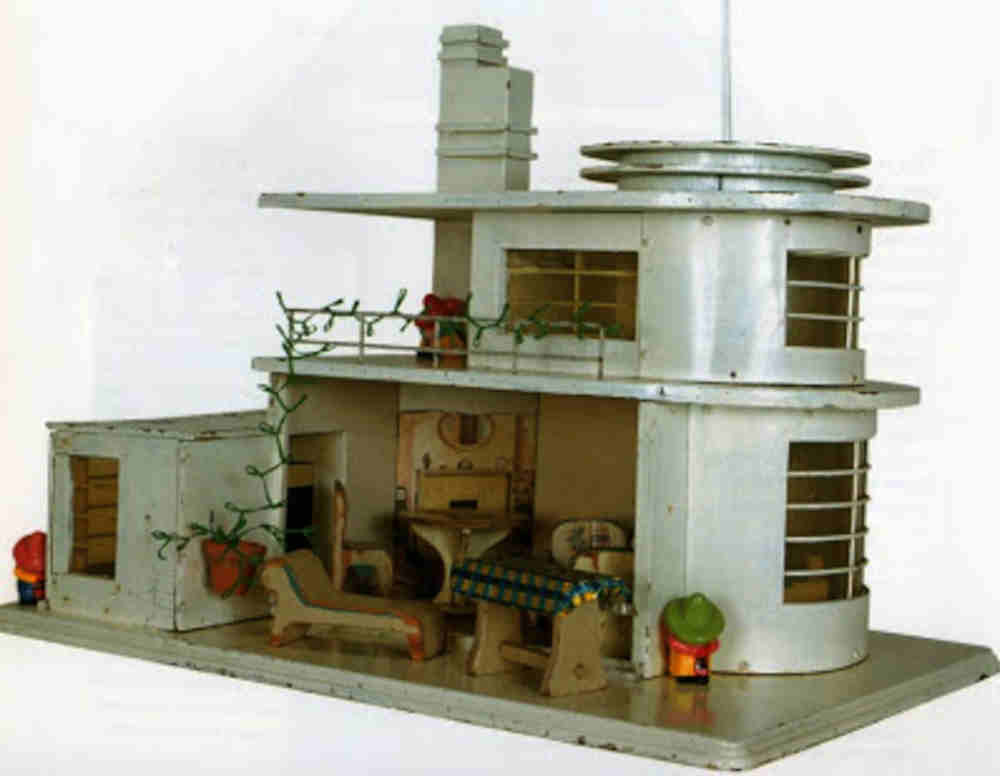 Here is an example of the Art Deco dolls house I found on rebeccascollections.blogspot.com. According to Rebecca it is featured in a book Dolls' Houses in Australia 1870-1950 published by Historic Houses Trust of N.S.W. The book is available in the Sydney library.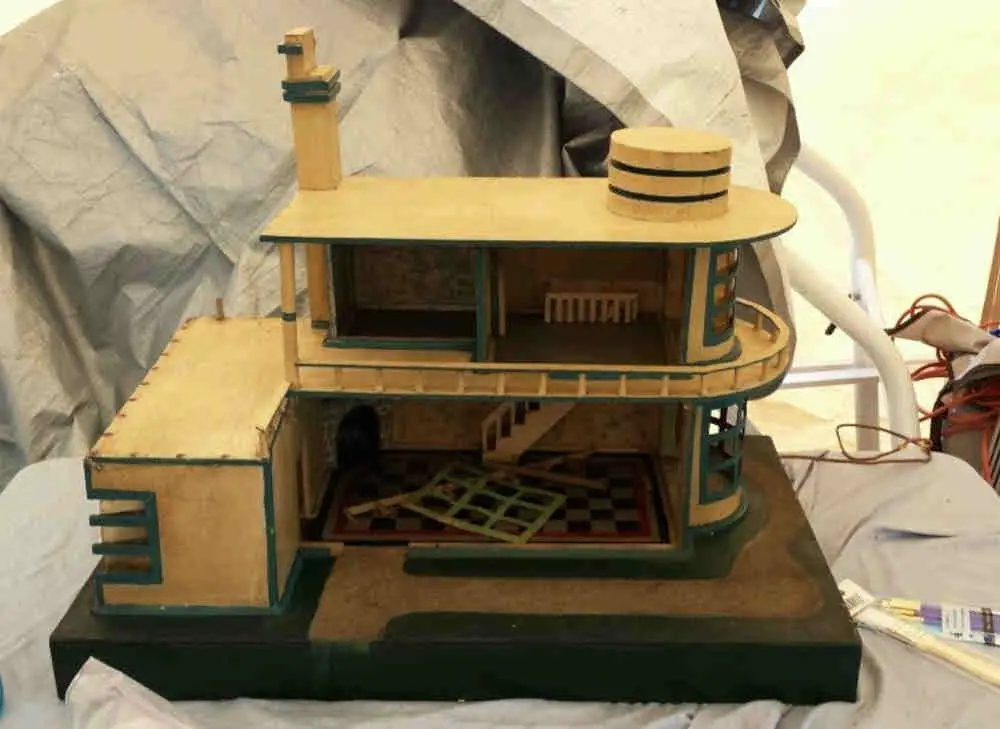 Sold on eBay some time ago, this appears to have been built from the same dolls house plans.
I have found a few references to plans for sale, sometimes on eBay, but somehow I suspect they are copies of the original article from the Popular Mechanics article published on January 1937.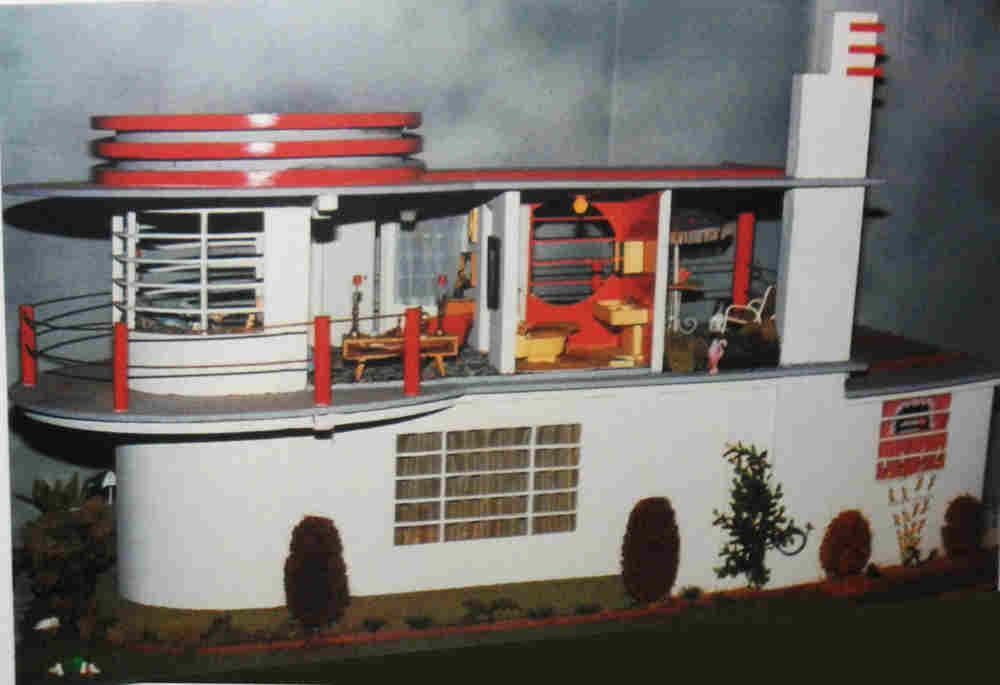 This one I found on Pinterest. Using image search, I have found this image on a few blogs, and most of them refer to each other, so I am not sure who it actually belongs to.
Apartment Dolls House Plans With Elevator
How to make an apartment dolls house with elevator. This article appeared in the February 1941 issue of Popular Mechanics.
I have made a Sketchup model which you can view and print the cut list using the scenes tab.
Be sure to come back soon because I shall make the complete PDF document available for download in the next few days.
Fairyland Dolls House Plans
Inspired by an article in an online copy of Popular Mechanics December 1940.
I have also made a SketchUp model which you can view by following the link. The model opens in the SketchUp for web application.
Note that the model includes the original article, a cut list laid out on a sheet of plywood or MDF that measures 96 x 48 inches, or 2400 x 1200 millimeters. 
The model also contains most of the parts with dimensions, but I have not created the scenes for those, at least not yet.
Victorian Doll House Plans
Barbie houses are not very common to begin with, a Victorian style Barbie doll house is RARE.
This beautiful doll house would be the gift of a lifetime for a young daughter or granddaughter.
Designed by Richard Packer.
Scale:
There really is not a scale for the Victorian House, it is just designed to fit Barbie (model) size dolls that are near 11 1/2 inches tall. The lower floor rooms are 14 inches high. The upper floor is about the same, the loft is about 12 inches at the peak.
Finished Dimensions
Height: 49.5 inches (125.7 cm)
Width: 60 inches (152.4 cm)
Depth: 39.5 inches (100.3 cm)
Plan Size: 24 pages

Published Date: 2010
Plan Language: English, all measurements are inches/feet unless stated otherwise.
Tools needed:
Scroll saw, drill, clamps and other common workshop tools.
Link
For more information and how to buy the plans the link will take you to the Woodworkers Workshop web page.
Vintage Plans Popular Mechanics Magazine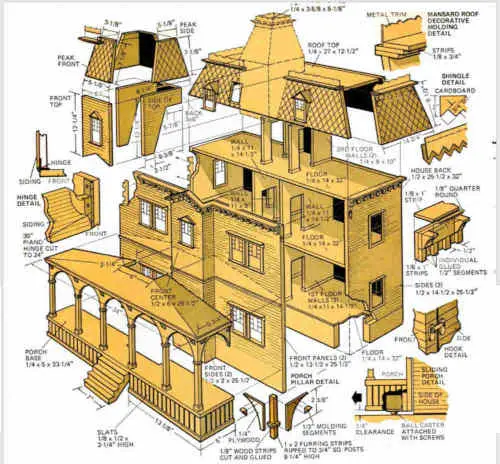 Victorian Doll House
From an article I found in the December 1976 issue. Two enchanting dollhouses you can build.
Overall dimensions are 34 x 20 x 46 inches high.
The article is an advertisement for plans you can buy, so the article is limited in detail. I had the idea that I could make a SketchUp model based on the article.
Here is the address you can write to:
Popular Mechanics, Home and Shop Dept. Box 1014 Radio City Station, New York NY 10019.
This was the days before the internet, so who knows if the address is still valid. On the other hand, there should be no reason why it wouldn't be.
Another SketchUp Doll House Model
An open side dolls house inspired by an old magazine.
View the model in the Sketchup app where you can extract the cutting list for the parts. Simply play the scene tabs.