Pedal Car Plans
DIY Project Pedal Car Plans
Amazing pedal car plans you can build. Surprise that someone special by building them a custom toy car. It does not really matter how old they are because everyone loves surprises. Imagine the look on their faces when you present them with your beautifully crafted custom toy car

Father and Son Project
A pedal car project makes a great father and son project, or grandfather and grandson project. They are having so much fun, soon the whole family wants to become involved. What better way to learn how to make things.

It is so much more fun when you invest some time and effort into a project like this, a way of spending quality time together and making memories that will last forever.

Sure, it is easy to just go and buy one, but it means so much more to a child if someone close to them actually made it. There is nothing to compare the sense of accomplishment of making something unique that will be treasured forever. Unique designs that look like cartoon airplanes. 

Pedal Car Plans
Fire Truck DIY Pedal Car Project
From Woodcraft.com US $15.21 (Plus Flat Shipping Fee of $3.99)
Designed with four- to seven-year-old firefighters in mind. Working steering mechanism, smooth pedal power. 48 in. long by 24 in. wide. Includes plan only.

---
Police Car DIY Pedal Police Car Project 
From Woodcraft.com US $15.21 (Plus Flat Shipping Fee of $3.99)
Build this pedal car and make that child very happy! Finished project has working steering mechanism, smooth pedal power and realistic paint scheme. 42 in. long by 24 in. wide

---
This DIY pedal car kit contains all the parts to make the chassis. As you can see from the photo, there is no seat either.
From eBay US $119.00
---
Another kit to build a pedal car, this one in the style of a 1955 Chevy.
From Amazon US $219.99 only 4 left in stock, so you had better be quick!
---
From Speedway Motors.
Surprise someone special by building them a custom cruiser or a sleek racer with this Comet pedal car kit.  This kit features pre-assembled chassis/running gear sub-assemblies, 2-tone wheels with tires installed, and a padded/upholstered seat pad.
Measures 17" wide, 21" tall (to top of steering wheel), and 40" long.
Ready to be primed, painted, then assembled.
The chassis/running gear sub assemblies are painted flat black and pre-assembled.
Padded, upholstered seat pad included (black).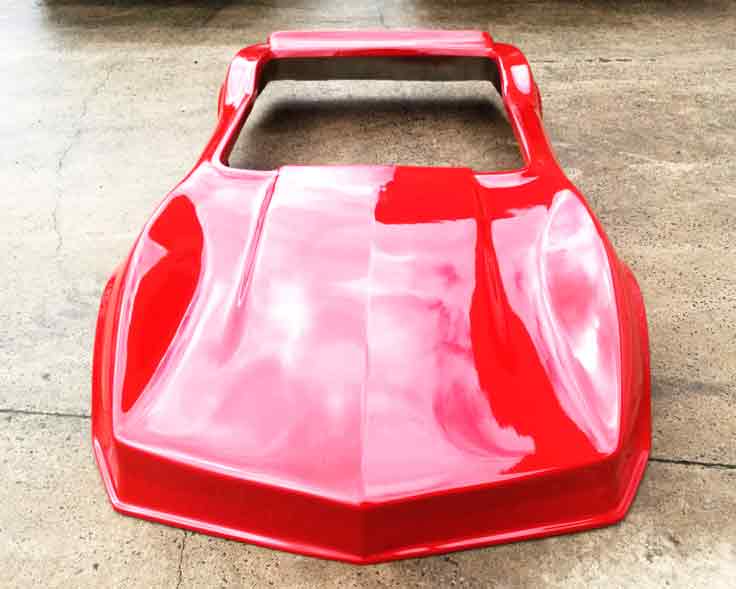 Chevrolet Corvette Stingray
Sponsored Link
Large 3/4 Scale Chevrolet Corvette Stingray Twin Seat Mini Hot rod Car made with fibreglass.
 For sale on eBay: shell body only
---
Vintage project plans so far there are three plans prepared for download.
Including the sidewalk play car, a half scale replica of a 1901 touring car and a kid size  replica of the open roadster from the early years of motoring.
Can it get any cuter than this? How to build your very own pedal airplane. 
A collection of 14 DIY pedal plane plans for sale from pedalplanekits.com. 

Most models have steerable tail-wheels, some have spinning propellers connected to the pedals.

Kits available separately include wheels, hardware, steel fabricated parts, plywood parts and decals.

Use this contact form for more details.
---
Find pedal cars for sale on eBay. Includes vintage, pre-owned and brand new.
---
Two DIY pedal car plans, The Speeder and The Zephyr for kids, also from American Speedster. There are also hardware kits available.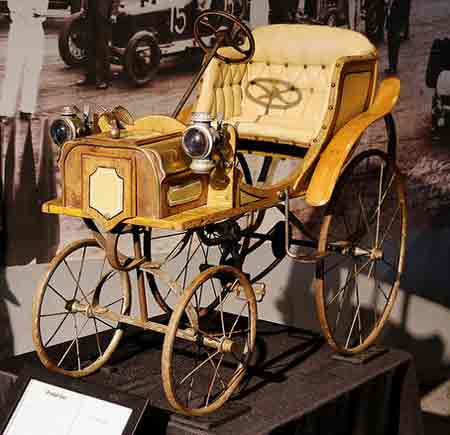 Antique Pedal Car