Toys For Girls
How to make wooden toys for girls. Woodworking plans to make wooden toys for girls are not common, so I decided to have a go at making a few designs.
All of the plans listed below are included in the free digital download at the bottom of the page.
Dollhouse Plans
Free dolls house plans. Designed to be easy to make with hand tools, they can be dismantled for easy storage.
Four dollhouse projects in total, all slot together construction all of them two storey designs including a bonus Barbie doll size.
Doll Cradle Plans
Free doll cradle plans, two sizes 13 inches and 24 inches. Easy build with full size patterns and step by step instructions.

Doll Size Rocking Horse Plans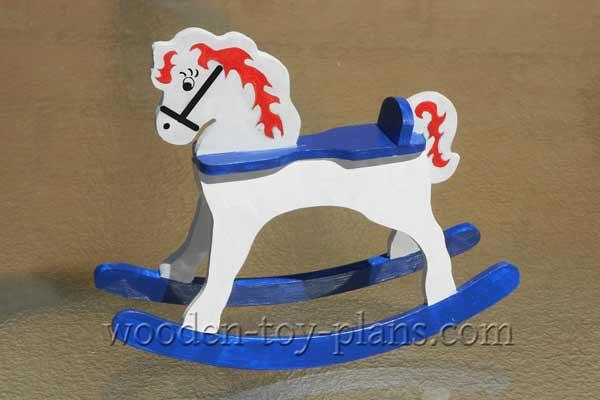 Doll rocking horse
This doll size rocking horse Scarlet was inspired by a full size rocking horse called Taylor.
Doll Furniture
A collection of four easy scroll saw patterns to make two types of tables, a rocking chair, and a footstool guaranteed to amuse
Make A Doll Bunk Bed
Most of the doll bed designs I have seen involve the use of a table saw. I tried to make a design using stock timber, but I still had to use a router to cut the slots.
You can read more about how to make a doll bunk bed here.
Toys For Girls Free Plans

 Free digital download print ready PDF file includes 3 dollhouse designs,  2 doll cradle designs, , and 3 doll rocking horse plans, doll furniture including two tables, a rocking chair, a footstool, and a bunk bed.

I also have a few Sketchup models in my 3D Warehouse collection.
If you have the right kind of software, you can view and download SketchUp models from my collection of toys for girls.
A Fairy Tale Princess Carriage
I was inspired by a few of the fairy tale type princess carriages to make one myself. Dare I say it is a work in progress, but you can have a look anyway.