Fashion Doll Furniture Plans
Fashion doll furniture plans - a few simple scroll saw patterns.

Make this three-leg footstool in a matter of minutes using bits and pieces left over from other woodworking projects.
Upholster it and it makes a novelty pin cushion. Free print ready PDF plans.
Barbie doll rocking chair free print ready PDF download includes full size templates.
Barbie doll size table woodcraft project plan.
A scaled down version of a lamp table I made some time ago.

Download Free Scroll Saw Patterns

Download the free scroll saw patterns using the form below.
Toys for girls zip folder includes doll furniture plans, Barbie doll bunk bed plans, a set of simple doll house plans, doll size rocking plans and a set ofdoll cradle plans.

More Fashion Doll Furniture Plans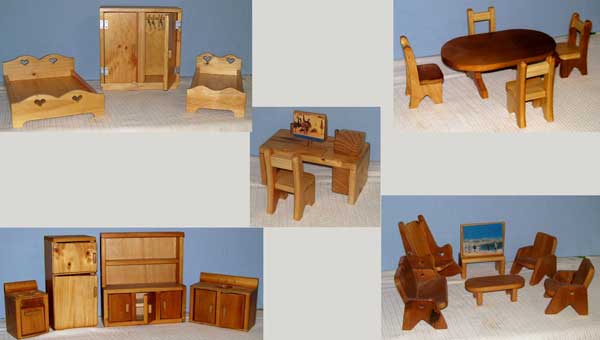 Fashion Doll Furniture Plans
These fashion doll furniture plans were designed by Roger Jenkins some time ago. Now he makes wooden truck models, but the plans are still available for sale.
Contact Roger Jenkins on his Facebook page or his website Aussie Big Rig Plans.
Tell him Tony Slattery sent you and you will get special treatment.
Use the form below to ask me anything, upload photos of your projects, or leave a comment.
You can also use this form if you need help with a project that you would like to make.
Ask me anything
Ask me anything, post a comment, upload up to 4 photos of your projects.

Let me know what you think.

If you have seen a picture in a magazine or have a photo of something you would like to make, upload it here and maybe, just maybe I can help you.

Even better, there may be someone else out there that can help you too.