Houseboat Plans
A collection of Do It Yourself houseboat plans. Some are free, some are available at reasonable cost. We have included a few ideas for those who would to make their own designs.
"There is nothing half so much fun as simply messing about in boats," to quote Water Rat from the wonderful book "Wind In The Willows" selection of stories by Kenneth Grahame.
Building a day trip or weekend shantyboat is not that difficult, even if you have no experience in woodworking or carpentry. It's a great project for the family, built by the family. Everybody can become involved, from designing, building, painting, making curtains and cushions, fetching tea and snacks, making helpful suggestions or even just getting in the way.
All The Home Comforts
It will have to include a bed for overnight stays for sure, a fridge of course, a RV style toilet naturally, a barbecue why not. A little home from home. Ok, so it would have to be a shanty boat, but with a bit of class. It would be nice to have it trailer-able, but that is not so important.
Because it will be used in very sheltered waters, a flat bottomed scow mono displacement hull or pontoon would be the best option.
Free Vintage Houseboat Plans
This 24 foot by 8 foot houseboat was first published by Popular Mechanics in December 1959.
The article was published over 5 months. Thanks to Google Books I have been able to collate all 5 articles into free print ready PDF files.
There is enough detail in the articles for anyone who is handy with tools can build one.
Length 24 ft, Beam 6 ft, Cabin about 7 x 16 ft, Sleeps five plus.
The interior of the cabin has virtually all the home comforts.
Galley for cooking and a dining booth for four which converts to a bed for two. 
Download all five articles.
Building the Popular Mechanics Houseboat Part 1.
Building the Popular Mechanics Houseboat Part 2.
Building the Popular Mechanics Houseboat Part 3.
Building the Popular Mechanics Houseboat Part 4.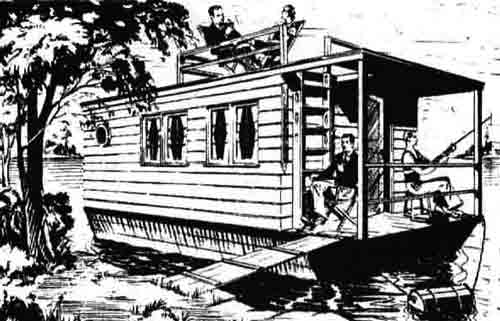 Coolwater Houseboat
Coolwater Houseboat plans includes sketches and construction notes from Modern Mechanics Publishing Company.
Lisa B. Good
The Lisa B. Good is a 16 foot trailerable shanty boat for calm waters designed by Paul Browne as the result of a discussion on the Yahoo Shanty Boat Group.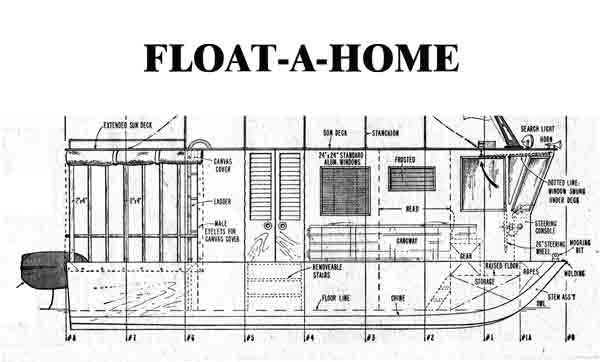 Float-A-Home
Float-A-Home is a 21 ft houseboat that is very stable and very easy to build. Free print ready download includes detailed sketches, materials list and construction notes. From the 1972 Boat Builder magazine.
Free plans for the versatile 25' Bayou Belle which can be built as a houseboat, a fisherman's boat or a sun lounge sports utility.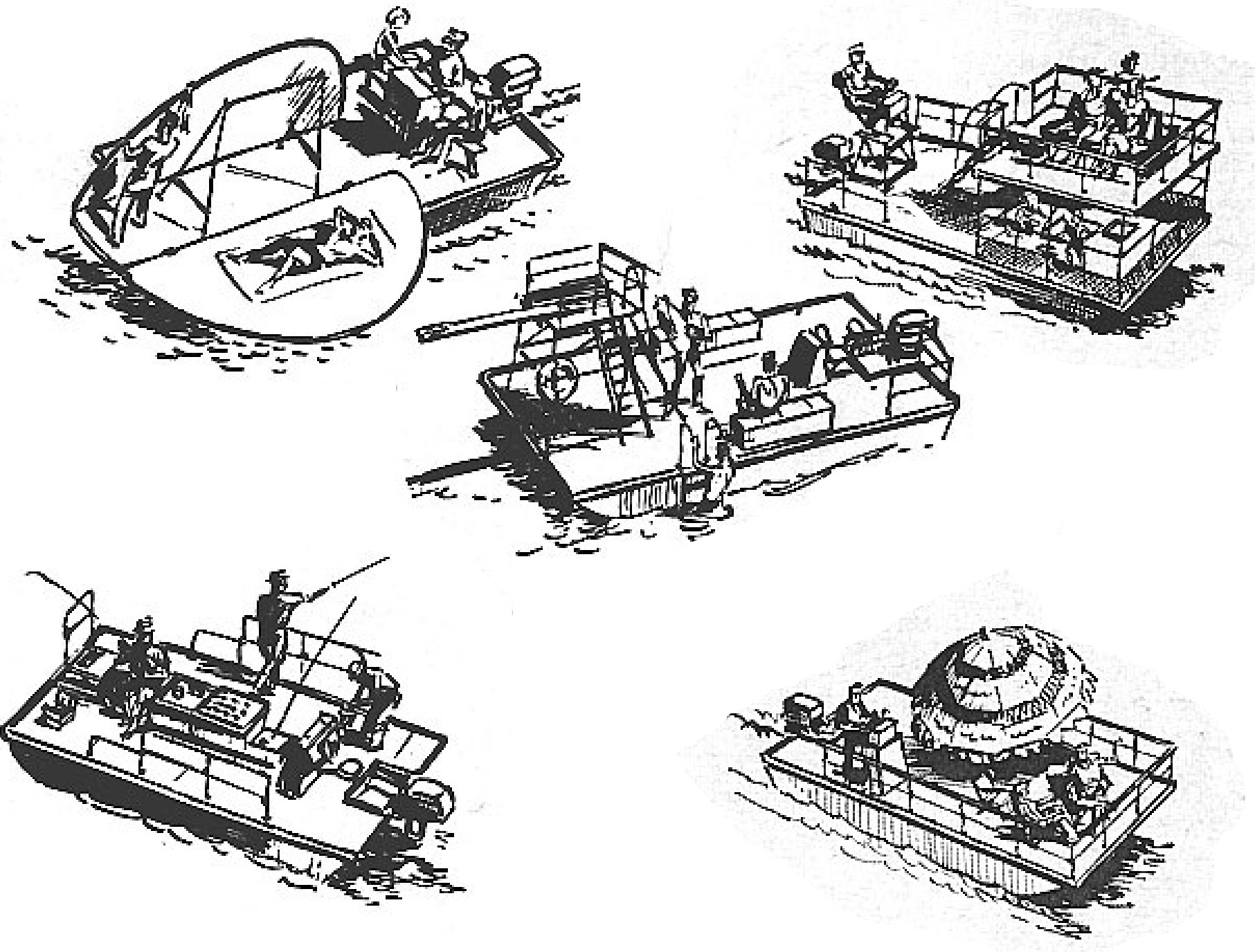 Platform Boat
Free house boat plans for Popular Mechanic's 16' Platform Boat features construction notes and photographs.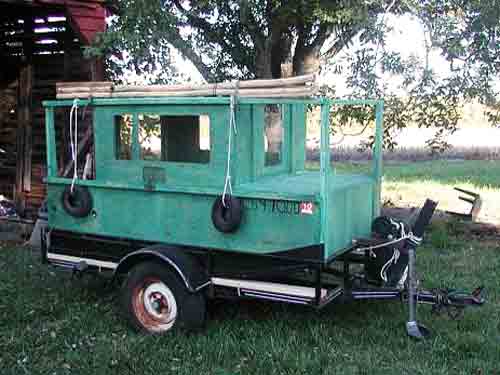 Dock Box
The Dock Box is an 8ft Nanoshanty for very calm waters.
If you need a laugh, this one is worth checking out. Some blokes have sheds for getting away from the missus and other demands. Problem is, you can't go fishing in the shed. This is the perfect solution.

All About Houseboats
Everything you want to know about houseboats, including this section on houseboat plans.

Ask me anything, share your project
Here you can ask me anything, share up to 4 photos of your projects.