Parking Garage, Gas Station, Charging Station and Car Wash!
by Bill
(Arizona)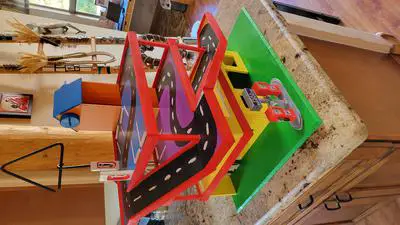 Thanks for the plans; tis was fun to make. The woodworking was easy for me as I've done a fair amount in the past. But the painting was time consuming for me. I modified the elevator tracks some. Rather than cutting a V groove, I used a router with a round nose bit to make a half moon channel. Then a 1/4" round dowel fit right in there nicely. Then a fashioned some Tesla-like chargers and made a gas pump station. The back left ground floor is a car wash!
Join in and write your own page! It's easy to do. How? Simply click here to return to Wooden Toy Car Garage.