Rosie the Duck Rocker
by Ray Nicosia
(Rochester Hills, Michigan, USA)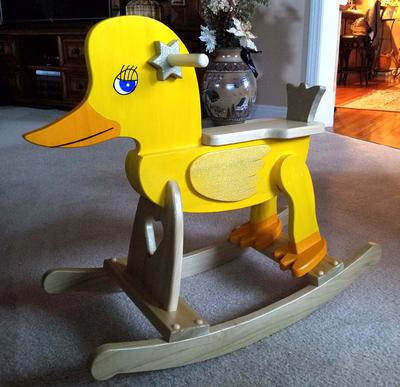 Rosie the Duck Rocker
The plans for Rosie the Rocking Horse were very helpful in creating my granddaughter's fascination with ducks into a Rosie the Rocking Duck.

I had to lose the front legs and replace them with a brace that is supported at the top with an ~3/4" slot cut into the main body.

Adding a bill to Rosie's horse head and scalping the neck area quickly changed her to a duck and the rounded main body added to the shape.

The rear legs are attached to the feet with wood glue and (2) 2" trim screws and the feet are glued and screwed from the bottom with (3) 1 1/4" coarse thread wood screws.