Toy Car Modified by Peter Crowe
by Peter Crowe
(Australia)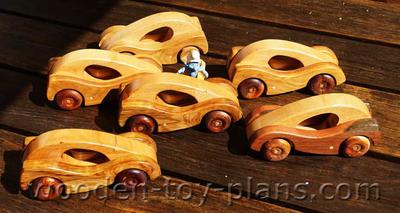 Wooden Car Designs
G'Day Tony,


I've made two
2
batches of one of your little cars but as usual I modify the pattern and strengthen the toy.
I've made the body taller, then added one 6mm dia location hole but after a few mis-alignments I've added a second 6mm location hole.
I'm using a McJings 50mm profiled wheel cutter for the wheels. The bodies are 32mm Oak bench-top offcuts.
The sides are for the most 20mm Cypress Pine flooring.
Oh, I also increased the height of the front mudguard to be approximately 14mm across the arch.
Here are some photos for you of the first batch; the second has finish drying.
I'll put them up on Lumberjocks and Woodworks Forum soon.
I've been enjoying the extra shed time making toys for prizes, gifts and give aways.
Hoping you're safe and well in this time of isolation/lockdown.
Cheers, Peter