Toy Furniture Plans
Download a free set of toy furniture plans to build this barbie doll bunk bed. Step by step instructions including photographs.
Sometimes the most simple design will pose the biggest challenge.
Have you ever tried to make a box? Then you will realize at least one fundamental of making things out of wood - the need for accuracy.
In another way, this is also similar to making a chair in that there are rails and posts. The scale is too small to make mortise and tenon joints, so I opted for dowel joints.
It would have been easy to simply use butt joints, but because this is a toy to be played with, the joints have to be a little more robust.
Sounds simple enough, but the dowels would in fact interfere with each other, so they will have to go in at an angle.
Tools
One of the reasons I like to design and make wooden toys is the fact that I don't need to use expensive woodworking machinery. 
All I used for this project was an electric drill, a 12 inch disk sander and a hand saw.
If you have a clamping mitre box saw combination, you wouldn't really need the disk sander.
If you want to, you can use a router to cut the grooves for the base. To do this, I used a D-handle router mounted in a home made router table.
Materials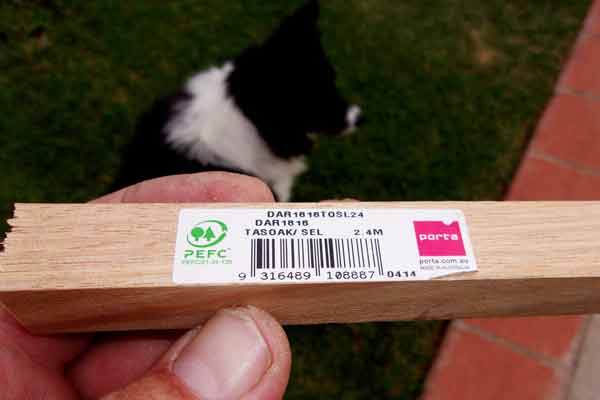 This is one of the pieces of timber I use to make the Barbie doll bunk bed. From porta.com.au.
The label says DAR 18 18 SEL which means Dressed All Round and 18mm by 18mm thick Selected. It's available in 2.4m lengths.
For the base I used 7mm plywood.
I found a packet of 5mm dowels at my local craft shop, which proved to be ideal for this project.
Cutting the rails to length.
The horizontal rails have to be cut to the same length, and the ends have to be square.
The way that I did this is to tape the pieces together and sand them square with a 12 inch disc sander.
Another way to do this is with a clamping mitre box saw combination.
I am using 7mm project plywood for the base, and to attach this to the rails, I have to cut a groove with a router mounted in a router table.
As I said before, if you don't have a router, simply attach the base to the underside of the frames.
Step by step instructions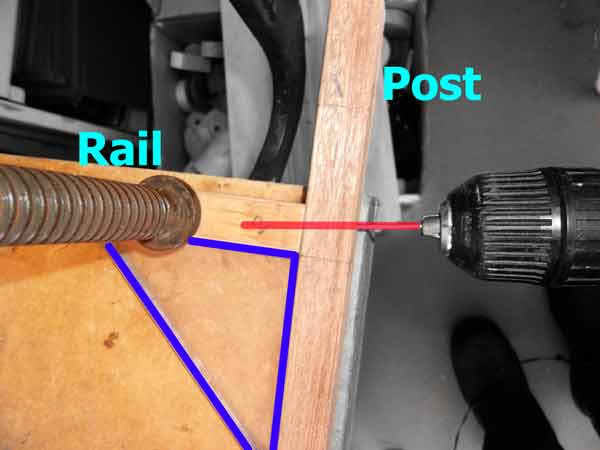 Making the end frames
Start by making the end frames.
Clamp the rail and post in the correct position as shown in the photo.
The holes are drilled in the post on the high side on one corner, aiming slightly down into the end rail. One the other corner, the hole is drilled on the low side, aiming slightly upward.
The red line shows the angle to be drilled, and the blue triangle highlights the clear plastic square I was using.
Wrap a piece of tape around the drill bit to limit the depth of the hole.
The top rail dowel pin is simply drilled at 90 degrees because there is no other connecting rail.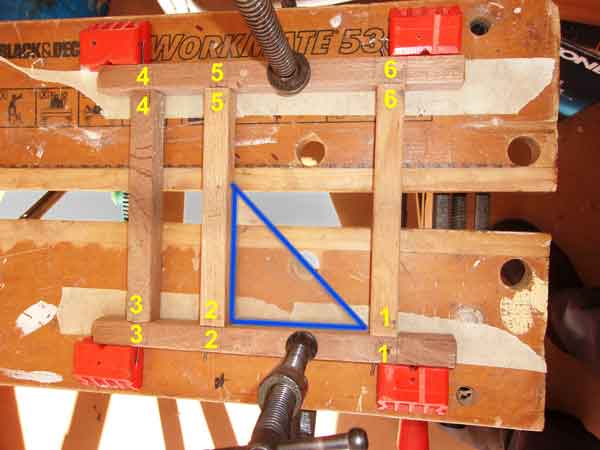 End frame glue up
Here is how I assembled the end frames using my trusty B&D Workmate. You don't see the grooves in this photo because they are facing down.
Remember to mark the frames as you go so that you can re-assemble them in the final steps.
I found it was easier to complete the two end frames first, one at a time, with the assembly of the side frames in the final step.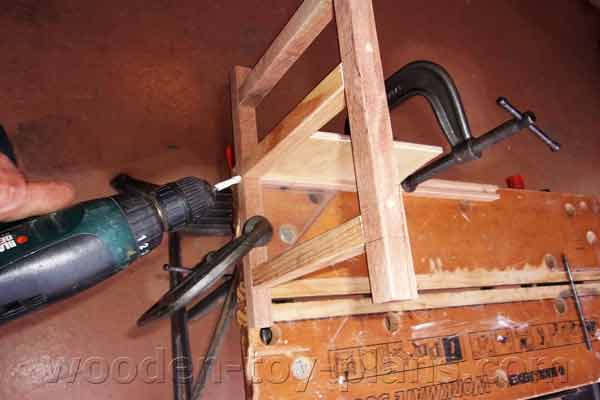 Attach rails to end frame
This photo shows the end frames already assembled. I am using a scrap piece of 7mm plywood to keep the alignment, and in the corner you may notice a clear plastic square.

Final assembly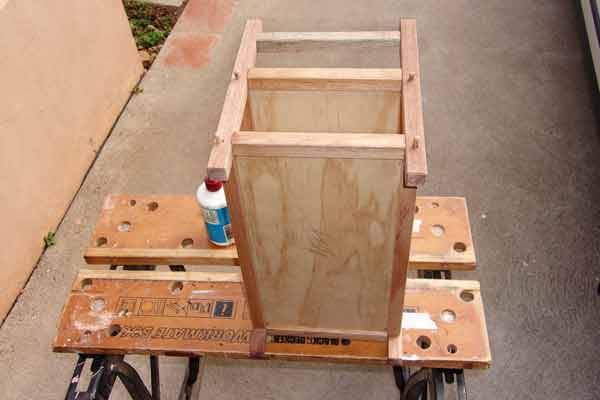 Final assembly
Photo shows the complete barbie doll bunk bed.
Trim the dowels and give it a final sanding, taking off the sharp edges.

Download toy furniture plans
Click on the link to download the print ready PDF toy furniture plans. File size 950MB
Finishing
There are many ways to apply a finish to a wooden toy. I have used food coloring on pine to good effect.

Conclusion
I certainly hope you have enjoyed making this project. Use this contact me form if you would like to submit your project to the photo gallery.

More Toy furniture plans
This bunk bed is sized perfectly for all 18 inch dolls. The 1-1/2 x 1-1/2 corner posts can be cut from a piece of 2x4 and the remaining parts are cut from 3/4 inch thick lumber. All patterns drawn FULL SIZE.
Finished Dimensions
Height: 20 inches (50.8 cm)
Width: 12 inches (30.5 cm)
Length: 23 inches (58.4 cm)
Your Total $USD14.99
These fashion doll furniture plans come with full sized patterns. An easy to build project to compliment your teddy bear, munchkins or other doll collection. 
Finished Dimensions:
Length: 22 inches (55.9 cm)
Width: 13 inches (33.0 cm)
Height: 17 inches (43.2 cm)
Your Total ($USD): $8.99
Free doll cradle toy furniture plans.
Keep in touch
Follow me on social media, or subscribe to my (occasional) newsletter. I only publish if I have new wooden toy plans to share.