Trike riding chimp push/pull toy
by Mike Screen
(UK)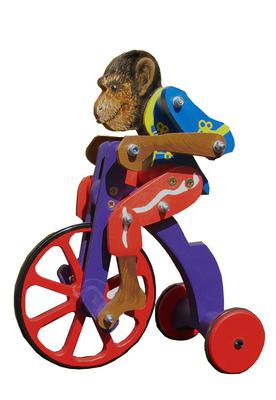 Monkey on tricycle
I've always loved those old tinplate toys. I'm just about old enough to had a few of them as a child.
A recurring motif or theme is the monkey on a bike or trike.
In our supposedly enlightened times we no longer
subject primates to such exploitative and demeaning activity.
My example however is a willing and enthusiastic participant who got a nice uniform for the gig as well.
I based him on the old tin toy monkey examples I found in books. He cycles furiously along with the torso lifting and falling with the effort.
I placed a pivot point through one of the upper legs and the tricycle frame.
As the leg passes through the pedal cycle, it causes the torso oscillate backward and forward. He's made of birch plywood, painted with acrylic and sealed with yacht varnish before all parts are assembled.