Wooden Toy Jeep
by Peter Crowe
(Australia)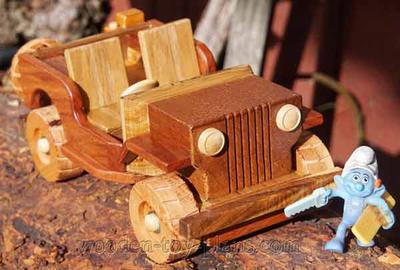 Wooden Toy Jeep
I started the plan but soon found it to be way to small to allow for personal modifications and strengthening, so we restarted the project up-scaling the plan by 150% and the fun began.

I added side steps, gear sticks, speedo, headlights, tail lights, shop made wheels, extra timber in the base to support the axles while increasing the timber thicknesses to accommodate play by little boys, grandsons test results and approval already completed.

Pretty pleased with our effort on the Jeep with a good mix to timbers, colours & grains plus extra detailing….

I've used Spotted Gum wheels, Blackheart Sassafras dashboard, American Walnut rear bumper, Jarrah sides/mudguards, Cypress Pine front cowling, Merbau engine block, Gidgee front bumper bar, Tassie Oak seats, plus a few others I have no idea what they are except the colour & grain went well where I used them.

The Jeep is almost 12" (305mm) long x 6" (150mm) wide and 5" (125mm) high with 5 coats of clear gloss polyurethane.

The build took me about 6 weeks between the rain/cold of an Aussie winter (yes, it's been as low as 8 deg "C" and only high teens during the day; thank goodness for a Bosch heated jacket) along with some poor health BUT a whole heap of fun having to adjust & modify the plans as I went with 150% scaling.

It'd have to be something like 18 – 20 hours to make the Jeep.