Doll Rocking Horse Plans
The design for Doll Rocking Horse Plans is a miniature version of the full size Rocking Horse Andy. 

Make both the full size and the miniature - this way a little girl will have one for her favorite doll or if in the case of a little boy, he can ride with his favorite action toy or a character from one of his favorite stories.

Easy to make with a limited selection of tools, this is an ideal project for beginners.

Made from scrap wood, this doll rocking horse stands almost 200mm (8 inches) to the top of the head.
Materials
To make this toy, you can use 6mm thick (quarter inch) MDF (Medium Density Fibreboard) or good quality plywood.
Finish it with acrylic paint in colours of your choice.

Tools
The right tools make all the difference in the enjoyment of the hobby of woodworking and woodcraft, which is why I would recommend a scroll saw for this project.
You can also use a jigsaw, like I did, but scroll saw gives a much smoother cut that need little or no sanding. If you are on a really tight budget, or if you are willing to spend the time and effort to learn a new skill, a fret saw is also an option.
Jigsaw or coping saw.
Power drill corded or battery powered. Why not have both?
Wood file.
Optional sanding block.
Step by Step Instructions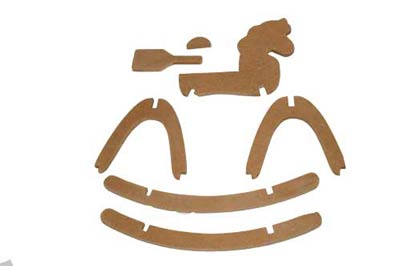 Parts ready for assembly
Print the plan on your home printer. Stack the legs and the rockers. Cut out the notches to suit the width of the material.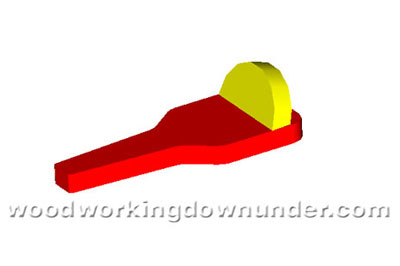 Seat with backrest
Glue the backrest (yellow) onto the seat (red). You may want to cut an angle on the base of the backrest to achieve a backward slope.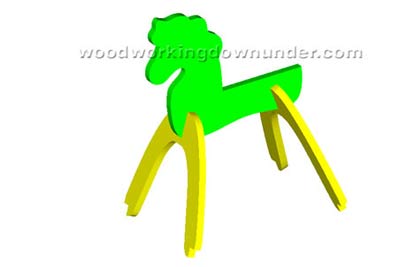 Fit the legs
Slot the legs into the body, but don't glue them yet.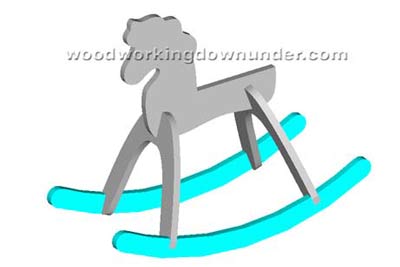 Fit the rockers
Check the rockers fit, and glue everything in place. Wipe away excess glue.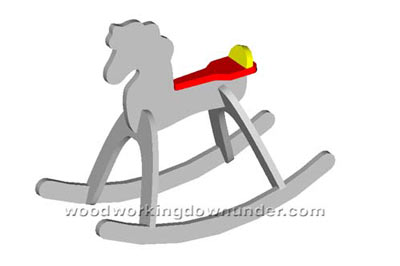 Fit the seat
Fix the seat assembly in place and your doll rocking horse is ready to paint.
Download Doll Rocking Horse Plans
Download a free PDF copy of the doll rocking horse plans Andy. The method of construction is simple enough, but it is always a good idea to read through the instructions first.

More scroll saw woodworking projects