Larry's Rocking Horse
by Larry
(Tucson, Arizona)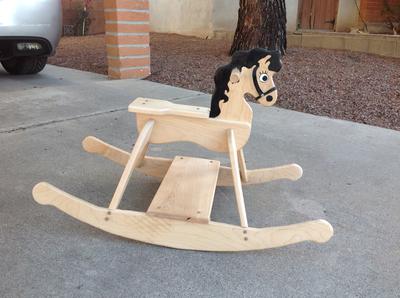 Larry from Tucson, Arizona, made this delightful rocking horse for his granddaughter who lives in Boston.

December 2nd 2015:

This is where I am now. Solid hard maple wood. The plugs on the rockers are walnut.
I'm going to take it apart and travel to Boston with it in my suitcase. My son and I will assemble it there for my grand daughter. Thanks for the great plan. It was made from one 12'X 6" 8/4 board.

December 12th 2015:

I just finished the pony today. I'm taking it to Boston for my Grand daughter's birthday present. I did not glue and screw the major parts yet. It has to fit in my suitcase for the flight to Boston. My son and I will do the final assembly there at his house.

I made the halter from a racquet ball racquet grip, some pop rivets, and two brass nails. The paint is a water based paint. I turned the plugs to hide the screw heads on my lathe. They are maple and the darker ones are walnut.