Massage Table Plans
Save money with this DIY project to make your own portable massage table. The materials for this project will cost a lot less than buying a brand new table, and probably even less than a good second hand one.
If you need some help from a woodworking friend, you can always return the favor by offering them a free massage.
Tools
This massage table plans has been designed to be made with the minimum of woodworking tools, in fact the average home handyman is more than likely to have everything that is needed. 

There is one small challenge, however, and that is that you will need the tools to make a half lap joint. It can be done with hand tools and a bit of patience. Otherwise a woodworking friend may be kind enough to do this part for you. 

Cordless power drill.
Tenon saw.
Smoothing plane.
Combination square.
Sliding bevel.
Woodworking clamps.
Builders square.
A selection of drill bits.
Sanding block with 120 and 80 grit sandpaper.
Materials
Please note all sizes in this massage table plan are nominal, which means that actual size may vary slightly. These are standard sizes available from most hardware and timber suppliers.
Part A - 2 pieces 9mm thick plywood 600 x 900mm.
Part B - 19 x 50mm pine, 3.6m and 2.4m long.
Part C - 19 x 64mm pine, 2 pieces 2.4m long.
Part D - 19 x 64mm pine, 2 pieces 2.4m long.
Part E - 19 x 64mm pine, 1 piece 1.2m long.
14 Hinges 19 x 64mm
84 Woodscrews 6g 12mm long (for the hinges.)
8 Woodscrews 8g 12mm long.
32 Woodscrews 8g 30mm long.
25mm Finish Nails.
Foam rubber - 2 pieces 50mm thick 600 x 900mm.
Vinyl cloth, 1.3m x 1.0m.
Woodworking glue.
Staples.
Handle and latch.
Massage Table Plans
Step by Step Instructions
Always a good idea to read through the instructions with the massage table plans.
Step 1
Make 2 frames (part B) to fit the plywood (part A). Glue and nail the frame to the plywood. Cut out the face hole in one part only. Round off the edges. Place the foam rubber on the plywood side and trim off the excess as necessary. Attach the vinyl cloth to the timber frame with staples. 

Step 2
Make 2 each of part C. Note the angle as shown in the end view. Make sure these parts fit inside of the frame of part B. 

Step 3
Make 2 each of part D. Note the angle as shown and the use of a half lap joint. This is where the Stanley No.4 woodworking plane comes in handy.

Step 4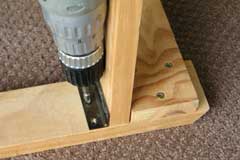 Step 4
Attach parts C to part D with a hinge as shown.

Step 5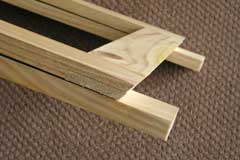 Step 5
Showing the massage table legs parts C and D folded flat. Note the orientation of the angle of part D. 

Step 6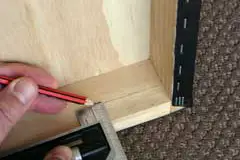 Step 6
Mark a line 20mm from the edge for the holes for the hinges. This distance may vary slightly according to the hinges you use. What is important is that there is enough clearance when the legs are folded flat. 

Step 7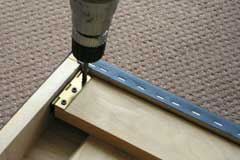 Step 7
Place one set of legs inside the frame as shown in the photo. Mark and drill the holes and fit the hinges. Do the same for the other half of the table.

Step 8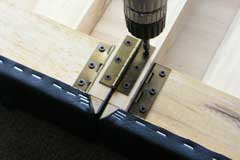 Step 8
Line up the two halves of the table and fix the hinges in place. 

Step 9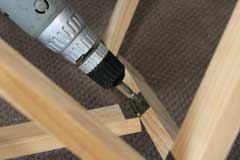 Step 9
Turn the massage table right side up and measure the length for the spreader bar. Cut the spreader bar to length, attach the hinge in the middle and attach it to the two legs. 

Step 10
Final Assembly.
Fit the handle, latch and studs, and your new massage table is complete. 

Download Massage Table Plans
Free digital download massage table plans.
This work is licensed under a
Creative Commons Attribution-ShareAlike 4.0 International License
.
Ask me anything, share your project
Here you can ask me anything, share up to 4 photos of your projects.