Spice Rack Plans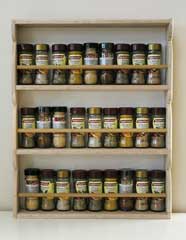 Spice Rack Plans
How the project evolved
A spice rack is a cost effective storage solution to help keep your kitchen tidy. It's a great gift that anyone will appreciate. 

Making something to store bottle of spice is a quick and easy project even if you don't have many woodworking tools. It will always be special gift because you made it. I decided to design my own spice rack plans.

A little research on the internet turned up some useful information, but nothing that I really wanted to make, so I decided to design my own. The first thing I did was to measure the height of a spice bottle, which came to 105mm high. Then I lined up 9 bottles in a row, and measured that distance, which came to about 370mm. Allowing for a little extra clearance by adding 10mm, thus making it 380mm. 

I decided that I wanted three tiers, and so I made a quick sketch to see how everything would fit together. 

Spice Rack Plans For All Seasons
List of Materials
Once I had the sketch, it was time to make a list of what I would need.
12 x 63mm pine, 3.0m long. My local hardware didn't have this, so I got a length of 10 x 65mm meranti skirting board instead.
40mm long x 2mm dia. finish nails.
15mm long panel pins.
9.5mm (3/8") dia. dowel at least 1.5m long.
3mm thick masonite. This sometimes comes in project board size of 600mm x 900mm. I used backing board which is white on one side.
Wood filler to match the wood you are going to use.
A tin of varnish or varnishing stain.
Tools
This is a list of the tools I used in this project. Clicking on the link will take you to eBay where you can study the various options availabe and compare prices.
Cordless Drill
Jigsaw
Hand Saw
Combination Square
Woodworking Clamps
Hacksaw to cut the dowel axles to length.
Wood file to round over all the edges.
Sanding block with 120 and 80 grit sandpaper.
A selection of drill bits.
You may also need a nail punch for recessing the panel pins, a 2mm drill bit for predrilling for the nails, and a 10mm drill bit to match the dowels.
Step by Step Instructions
This spice rack plan has been designed for spice bottles that measure roughly 41mm dia and 105mm tall. My guess is that most spice bottles are pretty much the same whever you may be. 

Step 1
The first step is to cut the timber to size. This is where it's a good idea to develop the habit of "measure twice, cut once."
It's very important to have the pieces all the same length. One way to achieve this is to use the first piece to accurately cut the next piece. 
If you have a disc sander, clamp the pieces together and sand them square.
Do this for all the pieces.
Step 2
Mark the decorative curves and cut them with a bandsaw or a jigsaw. I used the lid of a spray can for the smaller radius and the lid of cooking pot (that I am supposed to be fixing) for the larger diameter.
Clamp the two pieces together and drill the holes for the dowels. Also a good idea to pre-drill the holes for the nails in the corner joints and for the shelves. This helps to prevent the wood splitting.
The holes for the dowels should be a comfortable fit, so a little sanding of the dowels will help.
Finish the curves with the wood file and sandpaper before the final assembly.
Step 3
Mark the position of the middle shelves.
Glue up the outer frame first. I like to make a handed pair - two L-shapes nailed together, making sure they are square.
These two shapes are fixed together making the outer frame.
A small dab of glue and the middle shelves are fixed in place with panel pins.
Wipe away any excess glue with a damp cloth.
Step 4
The dowels are cut to length using a hacksaw. Drill a hole for the nails that will pin them in place. I find this is a better method than trying to glue them in place.
Final Assembly and Finishing
Using a nail punch, knock all the nails just below the surface. Measure and cut the backing board to size. Attach it with panel pins. Fill all holes and imperfections with wood filler.
Allow the wood filler to dry, then give everything a light sanding with 120 grit sandpaper. Apply at least two coats of varnish according to manufacturers instructions.
I hope you will enjoy making this project from these free spice rack plans.
Share your project in the gallery.
Download Free Woodworking Project Plans

Click on the View Button below for the free checkout.
Look for a file with the name woodworking-project-plans.zip in your downloads folder.
Here is a list of the plans:
Spice rack gift project
Artist easel 
Display easel
Book ends
Squirrel shelf
Workbench
Massage table
And for a bit of light relief after a hard day's woodworking, a few scroll saw patterns.
Enjoy.