Wooden Toy Car Plans
Part of a collection of wooden toy car plans. Based on the rumble seat roadster  cars built in the 1930's, this single seat sports car features a dicky seat for an extra passenger. Sometimes called a mother-in-law seat.
This sporty little wooden toy car measures about 315mm (12.4 in) long, 160mm (6.3 in) wide and 115mm (4.5 in) high.
How to Make Toy Cars
The project is simple enough for beginners, yet interesting enough for toy makers with a little more experience. The challenge is in the method of construction. 
Making toy cars is a lot of fun, they can be very simple profiles cut out with a band saw with a set of wheels attached.
This file contains the full size templates for the body parts, chassis and mudguards. Step by step instructions with photos are also included.
Simply print out each template page on your home printer, making sure the scale is set 1:1 or full size.
Materials
These wooden toy car plans have been designed to use project timber available from your local hardware or timber supplier. Also known as one inch wood, or white wood it is ready to use for a project such as this.

Tools
Most woodworkers and home handyman already have most of these tools.
Power drill corded or battery powered.
Bandsaw or a scroll saw.
Router mounted in a router table.
Tenon saw, also known as a back saw.
Combination square
Woodworking clamps.
Hacksaw to cut the dowel axles to length.
Wood file to round over all the edges.
Sanding block with 120 and 80 grit sandpaper.
A selection of drill bits.
Optional tools:

Some would say most of the pleasure of making toys is having the right tools to use. Everybody is different, some people would be happy to use the most basic of hand tools. 
A router mounted in a router table is  nice to have, but not essential to the completion of this project.
Likewise, I find a 12 inch disc sander very useful.
A drill press is also beneficial for making wooden toys, for drilling holes accurately for wheels and other moving parts.
I made my own wooden toy wheels using a circle cutter.

Step by Step Building Instructions
This is a preview of the building instructions which is part of the download package.
Step 1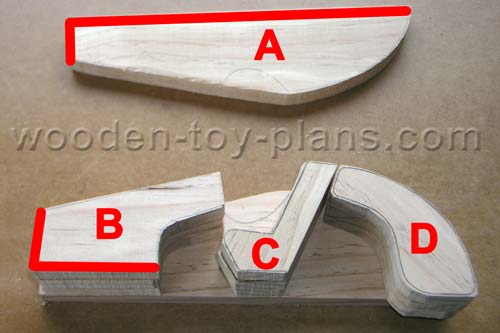 Step 1
The photo shows the parts A to D cut oversize, ready for gluing. 
Parts B, C and D are laminated and cut to the final shape once the glue has set.
The red lines indicate the reference lines for assembly and lamination.
Step 2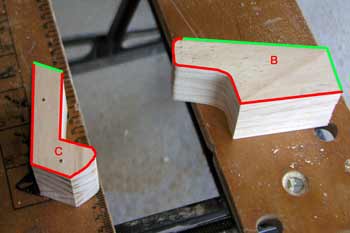 Step 2
Showing parts B and C laminated. The green lines indicate the areas to be left rough at this stage.
These areas are cut smooth  in the next step.
Step 3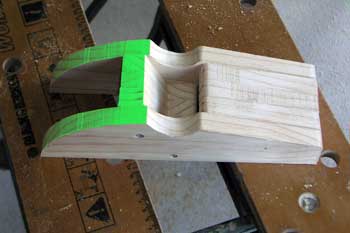 Step 3
Showing the two sides fixed in place. Once again, the are shaded green is left unfinished at this stage.
Step 4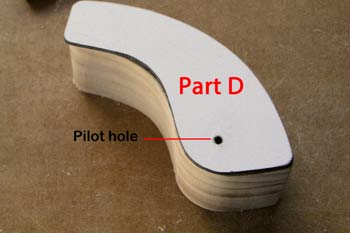 Step 4
Drill a pilot hole in part D. Nothing too complicated here, except to mention that it should be perpendicular to ensure the smooth rotation of this part.
Step 5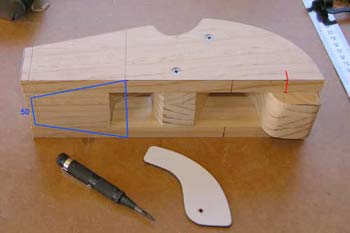 Step 5
Position part D in the body sub-assembly, and mark the position of the pilot hole as shown by the red line.
We will use this mark to drill the hole for the hinge pin when the chassis is fixed in place.
The blue line indicates the shape of the bonnet to be cut out in the next step.
Step 6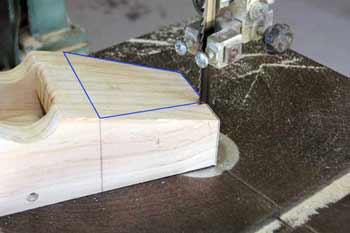 Step 6
Cutting the bonnet with a band saw. You could use a tenon saw instead.
Sand everything smooth and round over the top edges ready for assembly.
Step 7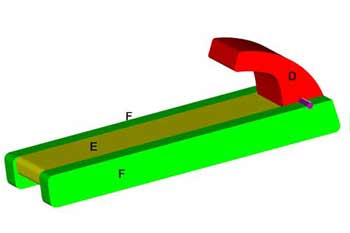 Step 7
The chassis sub assembly in glorious technicolor. Note that the overall width should match the bodywork.
Part D, shown red, is in position with the hinge pin in a complementary shade of purple.  This is purely for illustration purposes, the hole for the pin will be drilled at a later stage.
Be sure to leave a small gap between part E (yellow) and part D (red) to allow it to rotate freely.
Step 8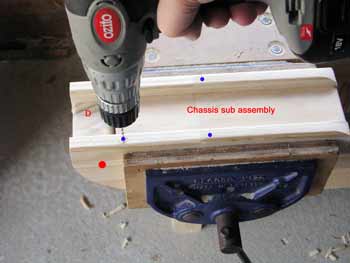 Step 8
Fix the chassis to the bodywork. I used four wood screws as shown by the blue dots.
The red dot on the side indicates the hole for the hinge pin, as located in step 5. Drill the hole and fit the rumbler seat.
No doubt it will be a bit tight, so we need to shave a bit off. Check for movement and adjust accordingly.
Step 9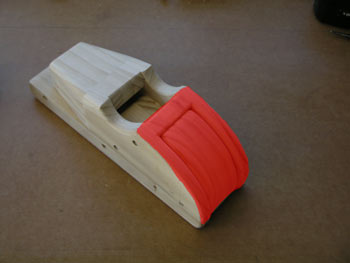 Step 9
With the rumble seat in place, the area shaded red is sanded smooth, and the seat is rounded over.
Step 10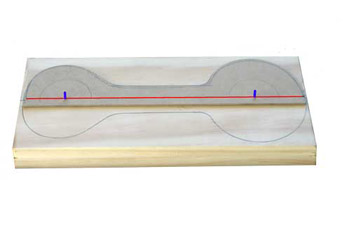 Step 10
Now make the mudguards using a template. The red line indicates the centerline and the two blue lines are a pair of nails holding the template in place while tracing the outline of one half. 
Flip the template over to create a mirror outline, using the holes left by the nails.
These holes will also be used for cutting the wheel arches in the next step.
Step 11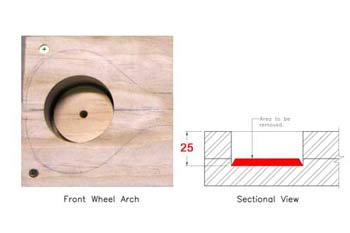 Step 11
Laminate the second piece to make up a thickness of 1-1/4 inches (38mm) with a wood screw in each corner (while the glue sets.)
Using the modified circle cutter, cut a hole through the first layer. This will make a wheel, and also leave a v-shape groove in the layer below, which needs to be removed. 
Now, you can use a router to do this if you have one, or use a chisel.
Step 12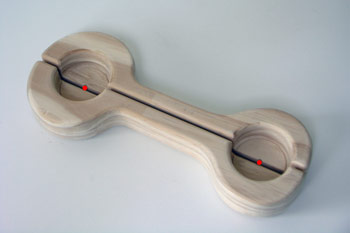 Step 12
Cut the assembly in half along the center-line. Round over all sides with a 1/4 inch (6mm) router bit.
The red dots indicate the hole made by the circle cutting. These indentations are going to help locate the holes for the axles.
Step 13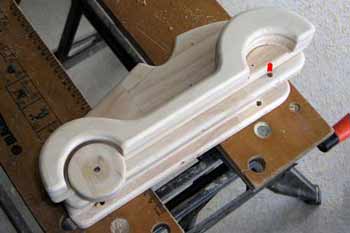 Step 13
Fix the mudguards in place and drill the holes for the axles.
Download Wooden Toy Car Plans
Free Digital Download Toys for Boys Project Plans to make trucks, planes, trains, cars, a multi storey toy car garage, wooden toy motorcycle and earth moving construction toys.
The plans are free, but I am happy to accept donations. Simply enter the amount you would like to donate in the box.
Share Your Toy Car Project
Would you like to share photos of the toy car from these plans?
More Wooden Toy Car Plans
Free plans to build this wooden toy racing car driven by Big Heart Bear.
This wooden toy car is my latest design for scroll saw or band saw. Only three parts plus four wheels and two axles.
The free wooden toy car plans include step by step instructions and full size templates.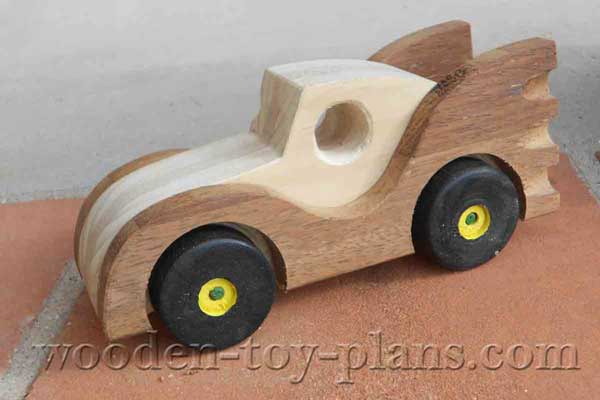 Batmobile Toy Car Plans
It doesn't get any better than this - flame throwing rocket powered batmobile toy car plans. Build one today.
Looking for somewhere to park your car? Build this three story toy car garage. This design includes a winch assembly to lift the toy cars to each level.
Making Wooden Toy Wheels
For these toy cars, I made my own wheels using a circle cutter mounted in a drill press.
It may be easier to buy ready made toy wheels. 
A selection of from Ebay. Includes wagon wheels, spoked wheels and wheels with treads.