Construction Toy Plans
Construction toy plans to build this wooden toy road roller.
Complementing my road grader design, this toy steam roller is easy to make using a few basic tools.

An essential part of road construction, the steam roller gets its name from the original machine that was actually powered by steam. The modern version looks quite different, and indeed it has a different name, but it has nothing of the romance of steam, at least as far as making toys is concerned.
Somehow the very shape of the steam roller describes it's function: this is a machine that means business, and it will serve you best that you keep out of the way.
This modern version road roller Mk2 is about 25% larger than Mk1, and has wheels 70mm in diameter.
Materials
This toy can be made from leftover bits in your scrap box. Mk1 was made with 19mm thick project timber, and Mk2 was made with recycled timber that was between 21mm and 23mm thick.

Tools
Most if not all hobby woodworkers and handymen (or handywomen) will have a selection of tools to complete this simple project.

For cutting out the parts, I used a bandsaw, but only because I have one. Most of the cutting can be be done with a hand saw. Anybody who has experience with a table saw will know that the parts are too small to use one safely.
I also have a 12" disc sander, and I find this indispensable for trimming end grain. Of course, a block of sandpaper or a wood file could also be used.
If you are going to make your own wheels, a drill press is an essential item when using a circle cutter.
Note Mk2 uses wheels of 70mm in diameter, while Mk1 uses a more commercially available wheels 50 to 60mm in diameter.
Building guide
This is a summary of the building guide which is part of the free PDF plan. This file includes all the step by step instructions and the full size patterns.
The example shown below relates to steam roller Mk2, and can also be used for Mk1.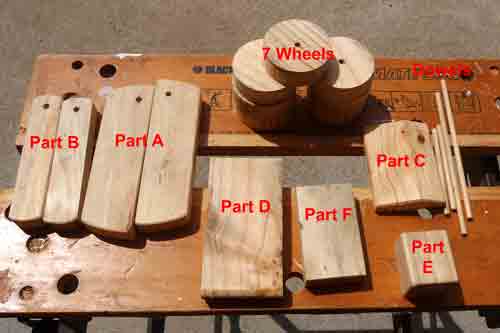 Step 1
All the parts cut out and ready to assemble.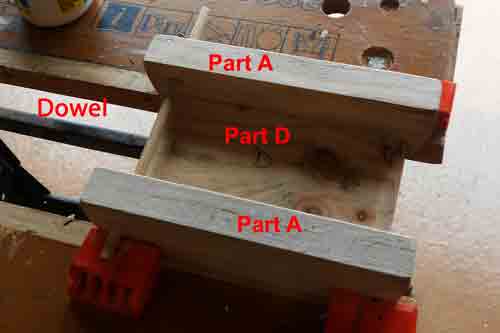 Step 2
Making the chassis sub assembly, fixing Part A to Part D using the dowel axle to keep the parts aligned.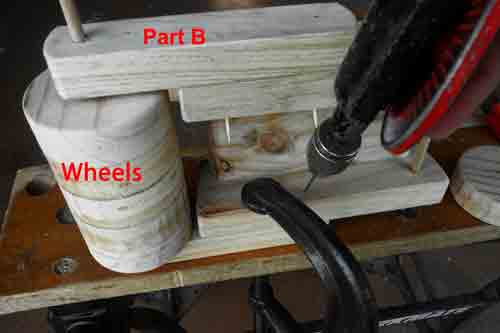 Step 3
Attaching Part B to the chassis sub-assembly.
The photo shows how to use the wheels to fix the position and to drill a pair of small holes for toothpicks to keep the parts from creeping under clamping pressure.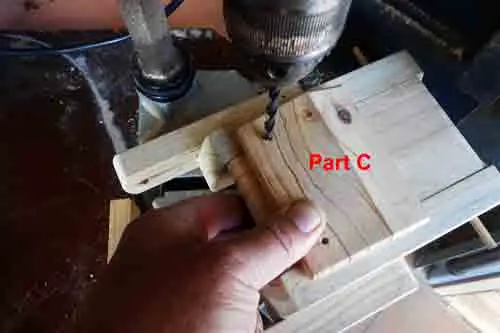 Step 4
Adding the roof of the cab.
To be sure the holes for the dowels are in line, I am holding it in position as shown in the photo.
The toy steam roller Mk2 complete with driver, ready for painting in construction yellow.
Painting and finishing
Leave it in it's natural state, or apply your favourite finish. I used yellow food colouring for a bright yellow finish. To make the wheels black, I mixed all the food colours together.
For information on food safe finishes and dyes, visit U-Beaut.com.au includes links to international suppliers.
Download Construction Toy Plans
Download the free printable PDF road roller.
Share your construction toy project.
Do you enjoy making construction toys? Share your latest project here.