Download Rocking Horse Plans
Download rocking horse plans for an easy to build woodworking project.
These two rocking horse wooden toy plans have been designed to use project timber from your local hardware or home depot store.
Also know as white wood, this timber is available in standard sizes and is ready to use.
Tools
Most home workshops have all the tools needed to build this project. All you really need is something to drill holes and something to cut curves.
Everyone has a power drill, but not everyone would have a band saw, in which case a jigsaw (no, not the jigsaw puzzle) would be fine. I know of at least two people who have used a scroll saw to make rocking horses.
Materials
These two rocking horses have been designed to use a single piece of project board available from all good hardware stores and home depots.
To make Oscar, you will need a piece 3.0m long and 280mm wide, or two pieces, one 1400mm long and another piece 1600mm long.
To make Rosie, you will need a piece only 1800mm long.
Building Instructions
All you need is a PDF reader to view and print pages from the PDF ePlan download. The free software can be downloaded from FoxIT or Adobe.

After you download these rocking horse plans, print them on your home printer.
The full size head template for Oscar needs a printer capable of printing up to A2 size. Because Rosie is that much smaller, she only needs an A3 size printer.
Visit your local office supply retail outlet, or there are numerous sites on the internet that offer poster and plan printing services.
Download Rocking Horse Plans
There are two versions of this design.
Oscar has a seat height of 500mm (19.7 inches)
Rosie has a seat height of 350mm (13.8 inches.)
The building instructions can be used for both Oscar and Rosie.

Download Rocking Horse Plans
More rocking horse plans
Free Rocking Horse Plans Taylor
Rocking horse plans includes patterns and building instructions.
Free to download.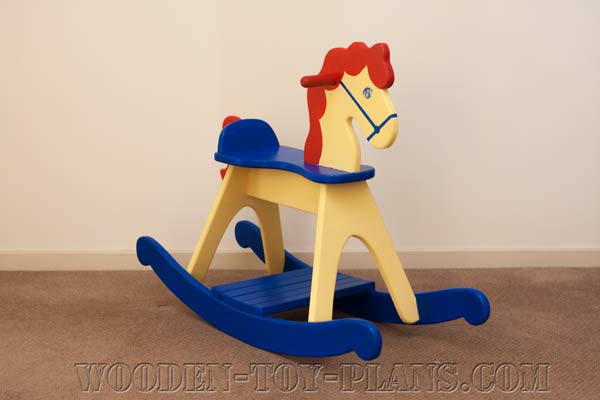 Free Rocking Horse Plans Pinto
Pinto Rocking Horse is another simple design, easy to make, complete with photos and construction notes.
Seat height of 400mm or almost 16 inches.
Free Rocking Horse Plans Andy
Not one, but TWO free plans for a rocking horse called Andy with a seat height of 500mm (20 inches) and Andy Junior with a seat height of 350mm (14 inches.)

Visit Jim Barry's Woodworkers Workshop for more free project plans.
Visit the woodworking projects gallery to view projects from people all around the world.

Share Your Rocking Horse Project
Have you built a rocking horse, and you are proud of it?

This is the place to share your story with photos.

Tell us who you made it for, one of your children or grandchildren, or even just for fun.

Maybe you plan on making a few for sale at the markets. Let us know how it went.
What Others Have Made
Click below to see contributions from other visitors to this page...


Pinto
Just teaching myself woodwork after a lifetime of wondering if I can do it. So thankful I found this plan...many thanks for allowing me to create a little …

Rocking Horse Oscar by Roy Brownlow
Hey Tony, Greetings from Woodstock, Georgia. We finished pony. My wife painted it. Thank you