Free Woodworking Toy Truck Plans
These free woodworking toy truck plans feature a simple design full of character. 
Do you have a lot of scrap wood lying around. Put it to good use by making a collection of toy trucks. Some people would call this up-cycling.
Even though wood is a renewable resource it is still an expensive commodity as woodworkers know. It makes sense to make every bit of the tiniest bit of scrap of wood into something if not useful, then something that will bring joy to a child.
You can even make your own wooden toy wheels. 
This wooden toy truck could become part of  a small collection of wooden toys to be given away. What about selling them at market fairs? I'm sure you would agree that they can become a best seller, especially if you use some of the more exotic and colourful woods, suitably finished.
Bright colours are always appealing, and you must child safe paints. There is a lot of information on this subject among toymakers.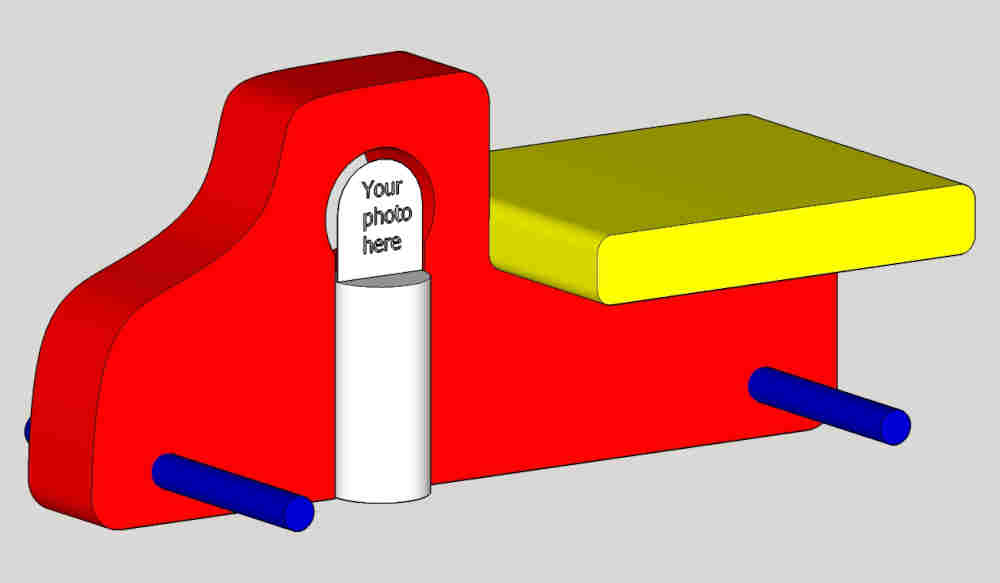 Cut away section
Here is something you may like to try. Every truck needs a driver, so why not put yourself or your favourite person in the drivers seat?
In this illustration I am showing a cut away section of the toy truck.
Prepare the driver
Cut a slot in the top of the 19mm wooden dowel and insert a photo of your favourite person. In fact you would need two photos facing each way for both sides.

Drill a hole for the window that is a little bit larger than the dowel. 
From the underside of the truck body, drill another hole to fit the dowel. 

Insert the dowel so that you can see the photo through the window. Mark the dowel and cut it to length.

Now you could fix the dowel in place with some glue, but I would fix it with a peg or a screw so that I could replace the photo if it faded or became damaged in some way.

Here is the Sketchup model of the three micro toy truck plans.
Download Free Woodworking Toy Truck Plans
Free digital download of three types of micro toy truck patterns.
If you plan on making more than one wooden toy truck, it would be a good idea to make a template out of cardboard.

Tools
No need for power tools here, but if you happen to have a scroll saw, that would be great. This project can easily be made with a handsaw, a wood file or sandpaper, and an electric drill.
If you are going to make your own wooden toy wheels, a drill press is an essential tool. Besides, when drilling the holes for axles for wooden toy wheels, it is important to be as accurate as possible for the wheels to turn freely.
There is one other tool, if you can call it that, for the production of toys with wheels. It is used for making plastic washers, and it is a hollow punch.
Many years ago, in a place far, far away, my grandfather used to make rubber washers for taps, sometimes called faucets for some strange reason. It was a time when the world was not as sophisticated as it is today.
Hollow punches are still available today, and I use mine to make washers using plastic milk bottles. You only really need one size for the diameter of the axle.
Materials and Procedure
Any pieces of scrap wood would be quite suitable for this project. Laminate with a contrasting colour in the middle would be a good idea. 
Trace out the shape onto a suitable piece of wood and cut using your preferred method. 
Using a drill press, or even a drill guide, drill the holes in the position shown. Dry fit the wheels, making sure the wheels spin freely, maybe even rubbing a bit of candle wax on the axles.
Depending on the thickness of the body of the toy truck, cut out the tray back to size. 
It would be best to round over the edges before gluing the two parts together.
Paint the toy before fitting the wheels, not forgetting to use the plastic washers you made earlier.
Have you made a wooden toy truck?
Showcase your wooden toy truck project here.
Toy Trucks Projects From Other Visitors
Click below to see what other woodworkers have made.