Jeep Pedal Car Plans
These Jeep pedal car plans featured in the January 1948 edition of Popular Mechanics. At the time you could make one for less than $50 using second hand parts. The article was written by Anthony W. Mentells.
There is a fair amount of woodwork and metalwork that goes into the making of a project like this. Nothing beyond the determined handyman, but you could always ask a friend to make certain parts that may be beyond your skills, or if you simply don't have the equipment for.
Electric motor
This toy car is powered by a starter motor and using a war surplus hydraulic transmission. 
This is a project on my wish list. If I was to make one, I would use at least one if not two electric scooter motors on each of the rear wheels. 

It just so happens that I managed to salvage not one but two from the local dump – they both work perfectly. They were part of a pair of Razor branded electric scooters made for kids.
Rated at 200kw and 2500 RPM unloaded they can be purchased from eBay for around $45. Suitable for people up to 70kg, speeds up to 15km/hr. If I could figure out how to power each rear wheel, it would be strong enough for me. Besides, the fact that they are independently powered may help with the differential effect.
Steering Mechanism
The steering mechanism uses a worm gear, which is great if you happen to have something like that. As it happens, I have a shaft and gear head from a whipper snipper, thought that might work.
The steering wheel was made from 10 inch tricycle wheel with the spokes removed, and a 3/16 x 1 inch flat iron welded to the rim. 
Download Jeep Pedal Car Vintage Plans
Download vintage sidewalk  jeep pedal car plans, which includes detailed sketches and construction notes.

A Jeep For Your Young GI
There are two pedal powered jeeps to build from these downloadable PDF plans.
The first designed and built by Herbert R. Pfister, of New York City.
The second jeep pedal car plans was designed and built by H. A. Machlan, of El Campo. This one has a sheet metal body and enough space for a little sister in the back.
I have also made 3D Sketchup model. The link will take you to my 3D Warehouse page.
A Jeep For Junior
Another set of vintage pedal car plans, this one designed by Paul Thompson Sr. appears in an article in Popular Homecraft magazine February 1945.
Once built, it measures about 59 inches long.
Miniature Jeep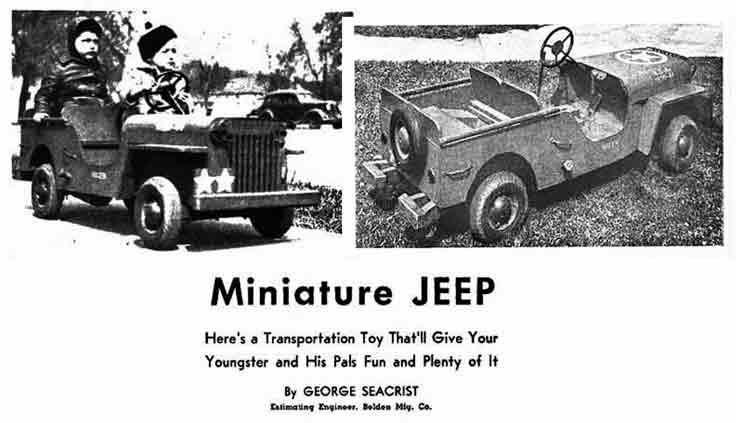 Miniature Jeep
A miniature jeep from 1947 Craftsman's Annual. Built by George Seacrist for his four year old son.
Electric Ride On Toy Jeep Project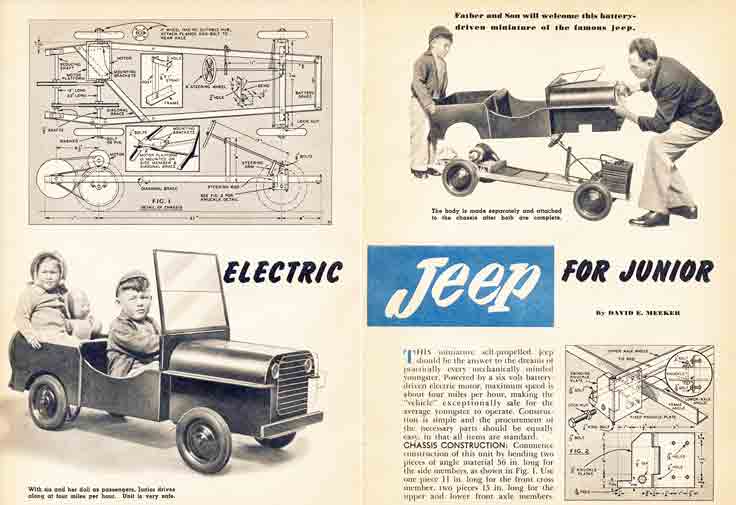 Electric Jeep
You can build this Electric Jeep from a 1946 Mechanix Illustrated magazine in an article written by David E. Meeker.
A Toy Jeep Ride On Car
No pedals, on electric motor and possibly the easiest to build. More information from Popular Mechanics March 1958. 
Share your jeep pedal car plans
If you have a set of plans or a project you would to share, simply fill out the form below.
Ask me anything, share your project
Here you can ask me anything, share up to 4 photos of your projects.