Pedal Airplane Plans
Pedal airplane plans DIY project.
PEDAL PLANE PLANS FOR KIDS - F4U-1 CORSAIR JR.

 The ultimate toy for your young pilot. The F4U Corsair features a three blade prop driven by the variable height pedal crank. Gull shaped folding wings . The fuselage and wings are built from 3/8" plywood. Steering is done from a control stick that is linked to a tail wheel assembly.
A decal package is also available with the graphics shown in the picture, a color instrument panel and a black and white engine decal.
Just one of the 14 pedal airplane plans and kits. 
Instructions are available for the kit builder with a reduced set of drawings and assembly pictures. Available as a separate package are full size patterns for all wood, sheetmetal parts, and dimension drawings for the steel fabricated parts all for the scratch builder . A parts list is also included for each method.
Kit order forms are included for those who would like to have parts prebuilt . Various types kits are available to help the builder complete a Corsair Pedal plane are included.
Sponsored Link
Super Stearman pedal airplane DIY project plans on eBay.
Includes the patterns and illustrations that show you how to build this great little tyke's biplane. This is perfect for the young pilots in any family. Building instructions are also included.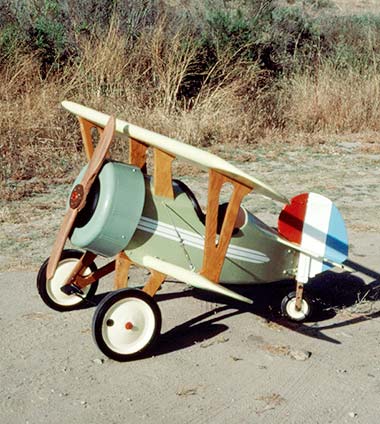 Pedal Biplane plans from Stevensons Projects.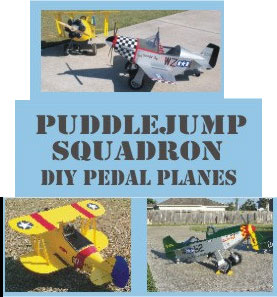 Puddle Jump Squadron on Etsy. Contact the shop owner for more information about his pedal plane kits.
P-40 Kiddyhawk Jr. and P-51 Mustang Jr. Assembly Guide.
Detailed description on building these two pedal airplane plans.
See how one builder needed more storage space so he made the wings removable.
Pedal Airplane Planes on Facebook
Pedal Planes Facebook group with more than 7000 members.
Ready Made Pedal Airplanes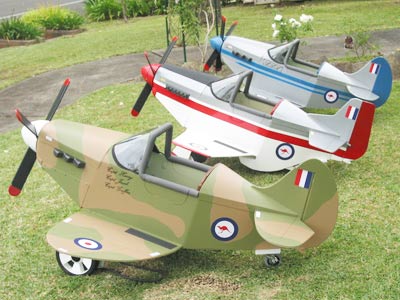 From Australia The Craft Company has been building pedal planes for junior pilots since 2004.
Located in the small village of Warrimoo west of Sydney. Even though they do not have a showroom, you are welcome to pop in to have a look. 
Mustang P51, Spitfire Mk 11, and Australia's very own Boomerang.
Search for pedal airplanes on Amazon
Amazon has a choice of ready made pedal airplanes to buy.
Ask me anything
Ask me anything, post a comment, upload up to 4 photos of your projects.

Let me know what you think.

If you have seen a picture in a magazine or have a photo of something you would like to make, upload it here and maybe, just maybe I can help you.

Even better, there may be someone else out there that can help you too.

What Other Visitors Have Said
Click below to see contributions from other visitors to this page...


Looking for Spitfire plans 
Good afternoon! We are currently building a mustang pedal plane and are looking for plans for a spitfire! Kaitlin Noyes Hi Kaitlin, I found …