Small Woodworking Projects
Wooden toys are ideal small woodworking projects you can make from bits of wood left over from other projects.
I found the inspiration for this simple scroll saw project from diotoys.com. First I made a small one about 3 inches tall to see what it would look like.
I decided it would make a great pull along toy, but it would have to be a little bigger, and it would be best to sit on a platform with wheels.
Step 1 - Give a dog a bone

Give a dog a bone - to ride on.
Why not make the pull toy platform in the shape of a bone?
I'm not great at drawing cartoon shapes, a bone shape should be quite easy to draw, but for me, maybe not so much.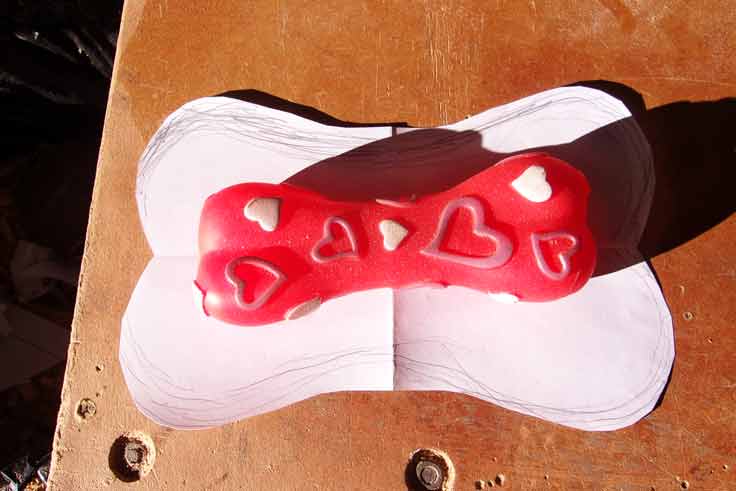 Sketching the bone shape platform.
Fortunately I found this plastic squeaky toy that belongs to our border collie boss dog Tammy, except she does not play with it much, she prefers a soccer ball.
So I made a rough outline, folded the paper in half, and half again to make four quadrants, and cut out the shape, and voila! There you have it - a perfectly symmetrical bone shape.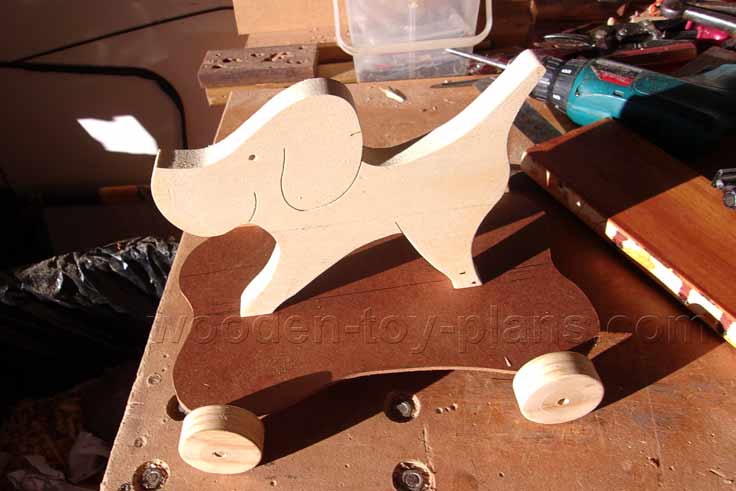 Proof of Concept
Transferred the outline onto a piece of hardboard to see how the pull toy dog would look on a bone platform.

Step 2 - Buckle My Shoe
Next is to make the platform base.
To attach the pull toy dog, I thought about using dowels or screws drilled up through the underside into the paws.
But the paws are too thin to do this
What about cutting square holes and plugging the paws in that way?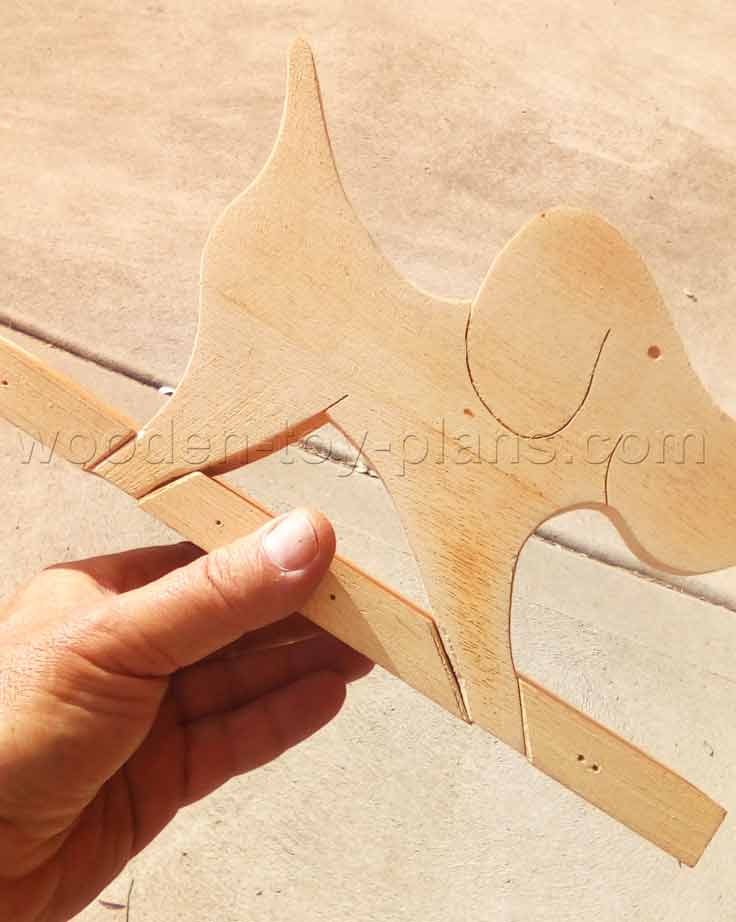 The photo shows how the paws fit into the platform base.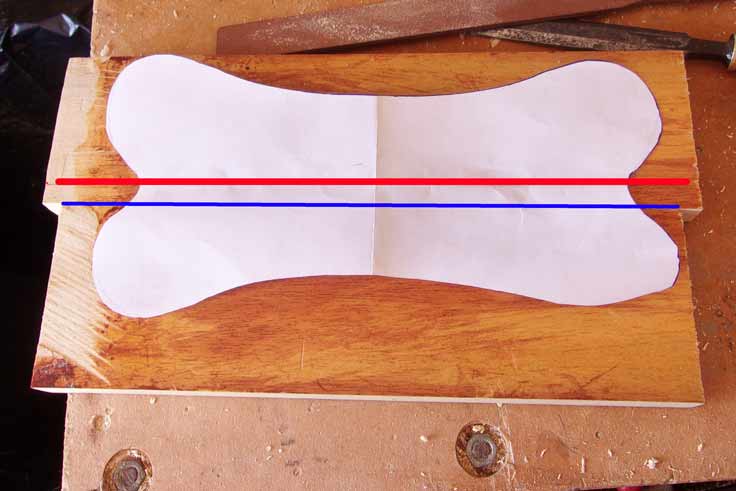 This is how I cut the platform base using the paper template. The red line represents the centre line of the template. The blue line is where the two halves join together. The offset is equal to the thickness of the paws.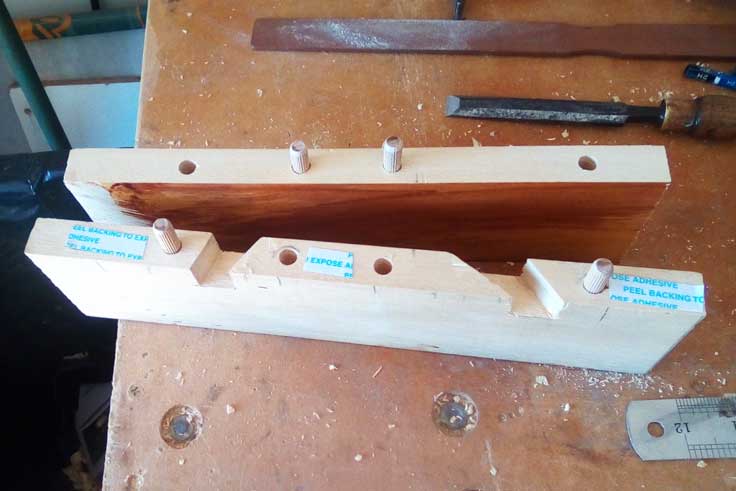 I am using dowels to join the two halves of the platform base as shown in the photo.
To cut out the shape on the scroll saw, I have to join the two halves temporarily with double sided tape.

Final Assembly
With all the shapes cut out and the edges rounded over with a bit of sandpaper, the project is ready for final assembly.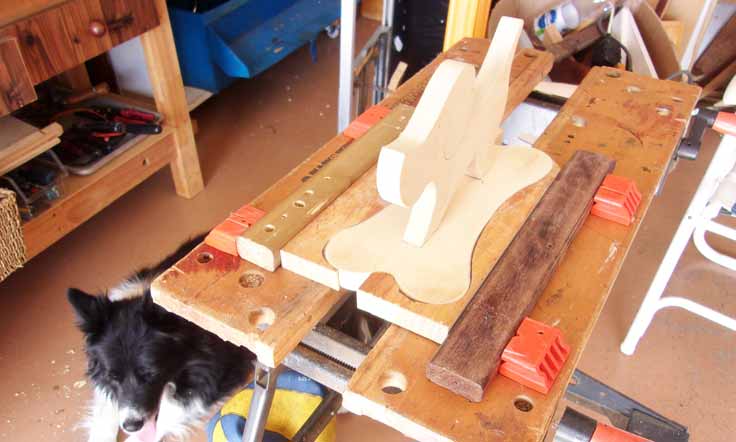 Here I am using my trusty Black and Decker Workmate as a clamp. 

Fixing The Wheels
I made my own wheels using a modified fly cutter.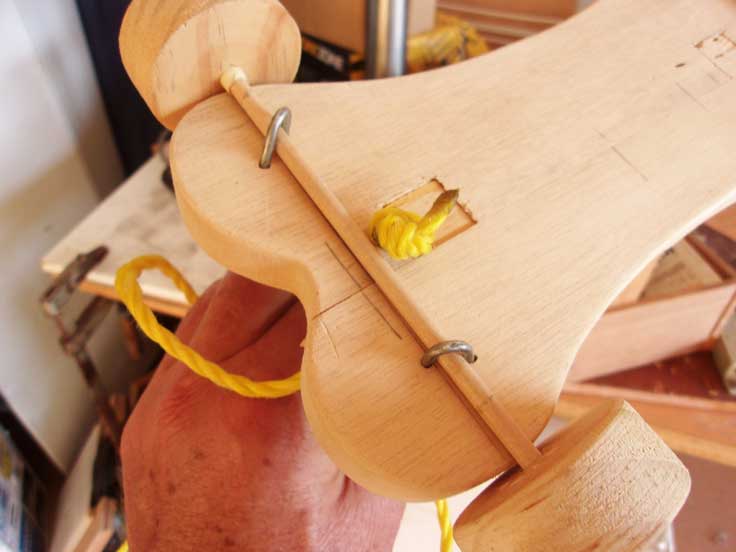 To keep things as simple as possible, I simply used 8mm dowel and a set of 45mm homemade wheels, fixed to the underside of the platform base with a pair of u-shape staples. 
It's not the best way to do this. Maybe one day I shall replace it with a block of wood.
All that remains is to drill a hole in front, pass a cotton rope through and tie a knot.
Download Small Woodworking Project Plans
Download the small woodworking projects plans if you would like to build one more. The plans are free, and you can share them among your friends.
Good luck with the project, and let me know how it went.
Small wood project to build a rocking horse ornament - a small scale version of Andy. Easy scroll saw project.
I made this one using scraps of MDF and painted it with acrylic paint.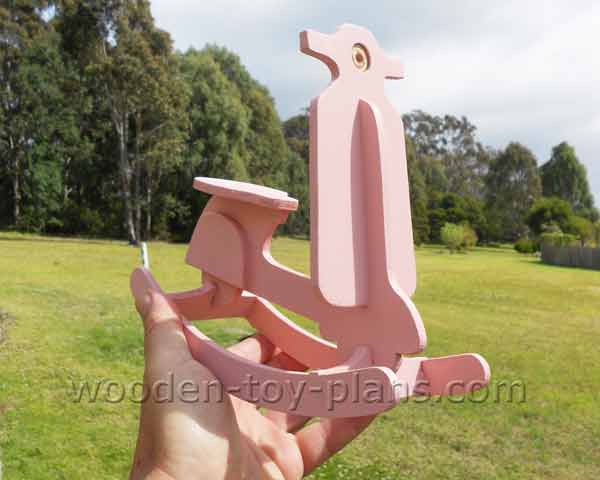 Free Plans Small Wood Project Scooter
A doll size rocking horse in the shape of a Vespa scooter. A simple scroll saw project. 
Also made it with MDF scraps, looks pretty in pink.