Wood Toy car
How to build a simple wood toy car.
With the increasing popularity of 4-wheel drive off-road vehicles, it was only a matter of time before we came out with our "wood" version. The scale of this toy is fairly accurate, so the finished product looks very much like a real 4 x 4. In fact, you may be a bit reluctant to hand this fine looking toy over to junior. Don't worry though, it's built tough and will take punishment, just like the genuine article.
We built our 4 x 4 using cherry and walnut, but most any wood will do. It is best to select a dark wood for the blocks (A and B), as this will lend the wheel wells and grill an authentic look.
Step by step instructions
Cut the stock for part A about 8-1/2" long to accommodate the notches to accept the bumpers later on.
Cut part B to size.
Cut out the stock for the hood ©, top (D), sides (E), bumpers (F and G), and the axle blocks (H). Note: cut these parts square since you will be shaping after assembly.
Use the dado head to cut the notch in part B to accept the hood.
Use the dado head to cut the axle grooves in parts H.
Chamfer the axle block edges as shown.
Hot glue together the two 1/2" thick side pieces temporarily.
Transfer the illustrated grid pattern to the sides.
Use a saber or jig saw to cut both pieces at the same time.
Drill a starter hole for the window cut-outs.
Use the jig or saber saw to cut out the windows.
Cut the profiles for the bumper notches.
Separate the two sides.
Glue the two blocks (A and B) together.
Add the sides, positioning them so the upper block protrudes 1/8" at the front, giving the appearance of a grill.
Glue the hood and top in place.
Sand to shape as shown.
Use a plane to bevel the sides and the top.
Use the table saw dado head to cut the back bumper notch to 3/8" wide and the front bumper bumper notch to 1/4" wide.
Glue both bumpers in place and flush their lower edges to continue the angled undercarriage profile, front and rear.
Add the axle blocks and mount the wheels and axles. NOTE: since there is little clearance on either side of the wheel wells, axle block position is important, and you must watch out for slippage along the axle block glue lines.
Sand the 4 x 4 thoroughly, breaking all sharp edges.
Leave the toy unfinished.
Download Wood Toy Car Plans
I am happy to give these plans away for free.
Clicking on the Add To Cart button below will take you through the free checkout process.
If you like, you can make a donation to help me make more plans, otherwise leave it blank.
| | |
| --- | --- |
| --- | Free Digital Download Toys for Boys includes planes, trains and automobiles, a multi storey toy car garage and earth moving construction toys. |
Share Your Toy Car Project
Would you like to share photos of the toy car from these plans?
More Wood Toy Cars
This wooden toy car is my latest design for scroll saw or band saw. Only three parts plus four wheels and two axles.
The free wooden toy car plans include step by step instructions and full size templates.
Free plans to build this wooden toy racing car driven by Big Heart Bear.
Wooden toy car roadster plans with rumble seat and spare wheel driven by Mama Bear.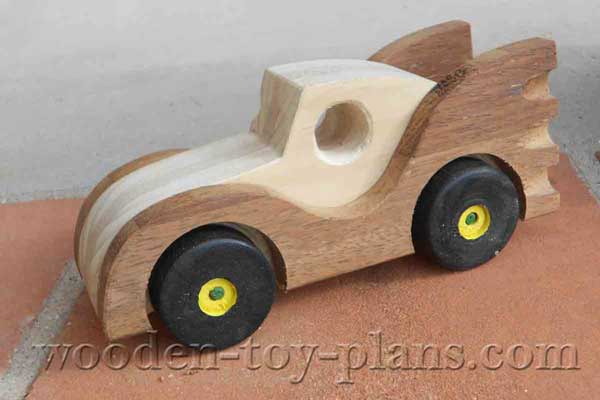 Batmobile Toy Car Plans
It doesn't get any better than this - flame throwing rocket powered batmobile toy car plans. Build one today.
Looking for somewhere to park your car? Build this three story toy car garage. This design includes a winch assembly to lift the toy cars to each level.
Making Wooden Toy Wheels
For this wood toy car, I made my own wheels using a circle cutter mounted in a drill press.
It may be easier to buy ready made toy wheels. 
A selection of from Ebay. Includes wagon wheels, spoked wheels and wheels with treads.
For information on food safe polishes, finishes and dyes, visit U-Beaut.com.au based in Australia.
For any other country, here is a list of international distributors for U-Beaut products.