Toy Car Plans
The photo shows the little racing car driven by Big Heart Bear. 

Don't let it's simple appearance fool you - there is a bit of a challenge, which relates to getting the wheels to fit neatly into the wheel arches. Use contrasting wood for the fenders, and laminate a darker piece in the middle to give it that "go faster" racing stripe.

Materials
This is what I used to make this toy car. You can use virtually any thickness of wood that will fit the templates.
Pine 19mm (3/4") thick by 100mm (4") wide x 800mm (31 1/2") long. Optional meranti or darker wood 12mm (1/2") thick by 75mm (3") wide by 260mm (10 1/4") long.
6mm Dia. dowel 180mm long for the axles.
For the template, use thin MDF board or Masonite or plywood 260mm (10 1/4") long by 140 (5 1/2") wide.
Tools
This is a list of the tools that I used for this project. Clicking on the links will take you to eBay, where you can research the latest in woodworking tools and compare the cost.
Something to cut curves - depending on your budget, a band saw very useful for almost all woodworking project. Not quite as expensive, unless you go for the top brand, a scroll saw is very popular.
A less expensive option is a fret saw or coping saw.
For these toy car plans, I used a circle cutter for the wheel arches in the sides of the toy. It was modified to cut wheels instead of holes. Find out more on the page about making wooden toy wheels (opens a new window.)
I would recommend using a drill press when using a circle cutter.
A tenon saw or a hand saw.
A band saw of a scroll saw.

Step by Step Instructions
Make as many copies of the toy car plans as you need to. Trace the outline of the body shape and the mudguards onto thin MDF (Medium Density Fibreboard) or plywood or even stiff card and cut it out.
For the wheels to fit in the wheel arch, it is important that the center of the wheel arch and the hole for the axle are drilled accurately. To do this, I place the mudguard template over the body template and drill a pilot hole through both templates.
Step 1
Step 1
A pair of nails holds the template in place. Trace the outline and turn it over to trace a mirror image for the other half. The hole left by the nails is used to ensure the accurate cutting of the wheel arches in the next step.
Step 2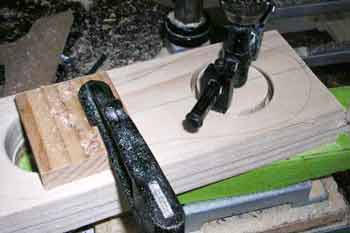 Step 2
Using my trusty drill press, I cut the holes that will form the wheel arches using the reference holes as mentioned in Step 1.
A drill press is strongly recommended when using this type of circle cutter. The leftover centers can be used to make a pair of wheels.
Step 3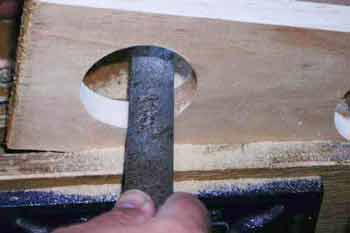 Step 3
Using a half round file to remove the burr left by the modified circle cutter.
Step 4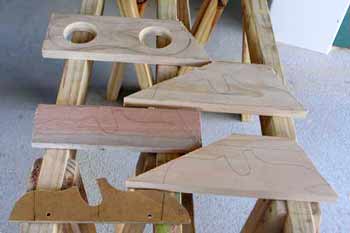 Step 4
Make a template for the body and use it to cut a rough shape on as many pieces of wood that you may want to use for the body. As an example, for the body, I used two pieces of 19mm pine and a contrasting piece of 12mm meranti sandwiched in the middle.
The photo showing the parts rough cut ready to be glued together. Note the template in the foreground and for what it's worth, the mudguard with the wheel arches cut out in the background.
Step 5
Cut the mudguards to shape with the band saw, then use the 6mm roundover bit in a router (mounted in a router table) to round over the edges. If you are not comfortable using a router on such small pieces of wood, it would be much safer using a half round wood file and 80 grit sandpaper.
Note that the wheel arches are to be rounded over on one side only as the other side is to be glued to the body.
Step 6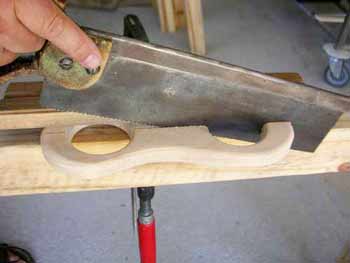 Step 6
Clamping the mudguard to a sawhorse, I cut it in half with a tenon saw. 

Step 7
By now the glued up body parts has set enough for me to handle it. I cut out the shape with a bandsaw, then sanded the saw marks away with a combination of a half round bastard file and 80 grit sandpaper. This is where a drum sander would've come in handy.
Step  8
Round off the edges of the body with a 6mm round over bit in a router. If you are not comfortable using a router on small bits, use a half round bastard file and 80 grit sandpaper.
Step 9
 I only thought about this afterwards, but you can learn from my mistake. Staining the mudguards a deeper colour or using contrasting food colouring would make the toy more attractive, so now is the time to do it before gluing the mudguards in place. My mistake was to try to stain it afterwards, and the problem is that the glue makes the stain blotchy.

Step 10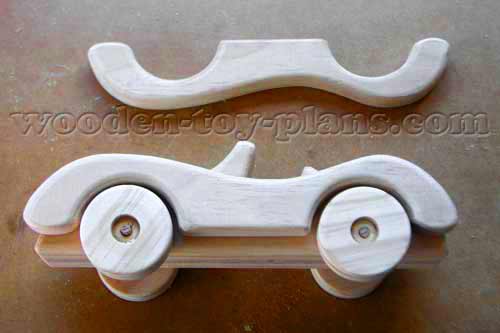 Step 10
Hold the mudguards in place, mark and drill the holes for the axles. Now, with the wheels in place, glue the mudguards. Try not to apply too much glue at this stage. I suggest marking the areas to be glued lightly with a pencil. 

Step 11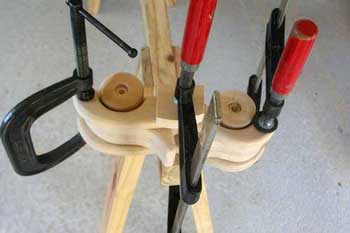 Step 11
The photo showing the clamps in place. This also illustrates the wisdom of pre-staining mudguards before assembly, as noted in step 9. 

Download Toy Car Plans
| | | |
| --- | --- | --- |
| | Free Digital Download Toys for Boys includes planes, trains and automobiles. Also toy car garage and earth moving construction toys. | |
The plans and building guide for this toy car racer starts on page 16

Please note these plans are in PDF document digital format, and you will need to print them on your home printer.
If you do not have a printer, you can take the file to your local library or office stationary shop and ask them to print it for a small fee.
Share Your Toy Car Project
Would you like to share photos of the toy car from these plans?
More Toy Car Plans
More print ready PDF wooden toy car plans, free to download and build right away. 

Wooden Toy Car Designs
Visit the wooden toy car designs page to download printable full size template patterns.
---
This free wooden toy car plan is inspired by the coupe from the 1930's, this roadster is fun to build.
Print ready PDF step by step instructions with photos are also available.
---
The Batmobile has a similar construction method as the racing car.
The addition of rocket power makes this car hard to beat.
---
DIY wooden car
How to build this 4x4 DIY Wooden Car link to page includes full size printable template patterns with instructions.
Use the form below to ask me anything, upload photos of your projects, or leave a comment.
You can also use this form if you need help with a project that you would like to make.
Ask me anything
Ask me anything, post a comment, upload up to 4 photos of your projects.

Let me know what you think.

If you have seen a picture in a magazine or have a photo of something you would like to make, upload it here and maybe, just maybe I can help you.

Even better, there may be someone else out there that can help you too.

Share Your Toy Car Project
Would you like to share photos of the toy car from these plans?