Wooden Puzzle Plans
A small collection of very simple wooden puzzle plans. 
Go to scroll saw puzzle patterns page to see more.
Paint with food safe paints in colors of your choice.
More Wooden Puzzle Plans
How to make a Soma Cube using only common woodworking tools.
Conceived by Piet Hein in 1936, there are seven distinctively different pieces that fit together to make a 3x3x3 cube. 
This puzzle can also be arranged in a rather large number of geometric shapes. It will keep you entertained for hours.
Here is a neat scroll saw pattern to practice on.
Go to the scroll saw patterns page.
Handmade wooden puzzle boxes for sale from Novica, in association with National Geographic.
Artisans from around the world (many living in rural communities) don't have the means to sell their work on the international market. NOVICA gives them a free platform to do this, and reach customers on a global scale.
How to make wooden assembly puzzles from Woodgears.

Burr Puzzles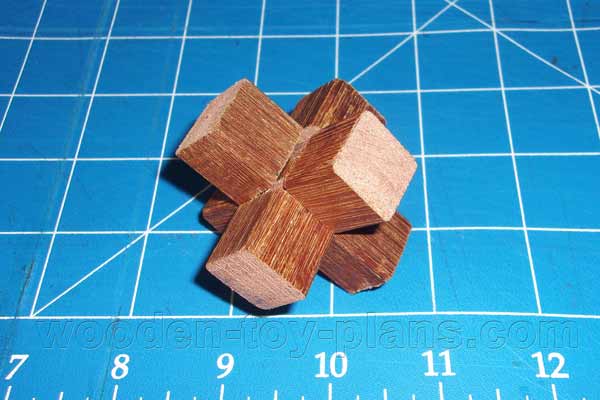 3 Piece Burr Puzzle
How to make the 3 piece burr puzzle. 
This is my first attempt at making this type of puzzle with hand tools.
Although I am more interested in how to make relatively simple wooden puzzles, I did find this comprehensive guide to interlocking geometric puzzles.
More puzzles here than you could poke a stick at.
Keep in touch
Follow me on social media, or subscribe to my (occasional) newsletter. I only publish if I have new wooden toy plans to share.
What Other Woodworkers Have Made
Click below to see photos and comments from other woodworkers to this page...


Puzzles made by Mark Joines
Mark Joines, who also designed and made the Kermee toddler walker sent me this photo of the jigsaw puzzles he made. toddler walker plans. http://wooden-toy-plans …