Easy Woodworking Projects
This is one of a few easy woodworking projects any beginner can make with scrap wood and just a few hand tools.
I made this using bits of scrap and recycled wood and a squirrel, sorry, scroll saw pattern in a matter of hours. It would be just as easy to use a jig saw, also known as a sabre saw.
This easy craft project makes an attractive and useful gift for the house, equally at home outside as well as inside. It would sell well at craft markets.
How to make a bookshelf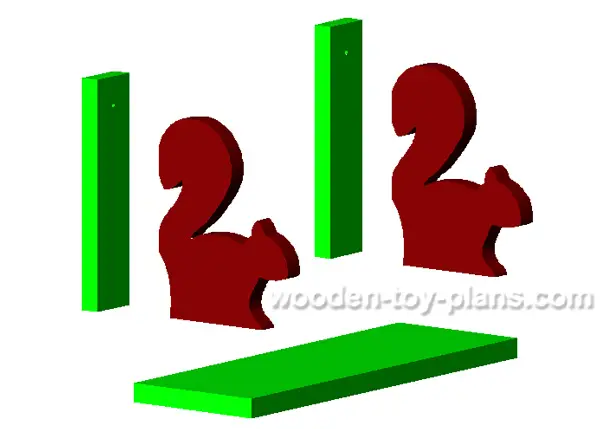 Exploded View
Download the full size squirrel pattern PDF or squirrel pattern image file.
Print it on your home printer, or visit you local library or office supplies store, or anyone you may know with a printer. It's only a single A4 size page.
If you are somewhat artistic, you could easily make a sketch on a piece of thin card and use that as a template.
Materials list
There is no materials list as such, because I suggest you make it from scrap or recycled wood.
All piece are 19mm thick project timber.
For the squirrel shapes, two pieces 160mm wide and 210mm high.
For the shelf, one piece a160mm wide and no longer than about 450mm.
For the vertical support battens, two pieces 50mm wide and 240mm high.
8 wood screws, 8g or 4mm in diameter, and 40mm long.
Step 1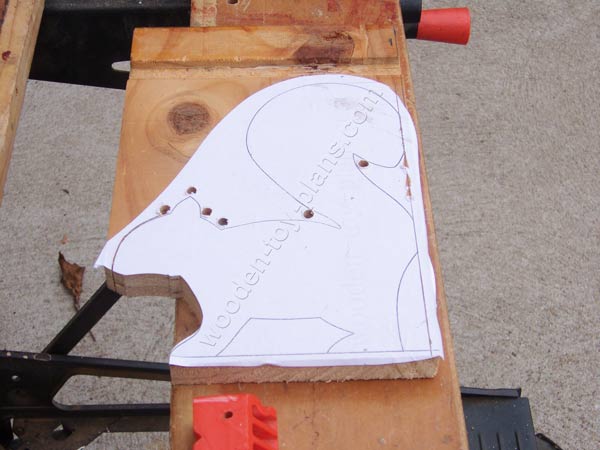 Step 1
Here I have pasted the pattern onto the workpiece and started cutting it out with the scroll saw.
To make it easier for myself, I have drilled a hole at each change in direction so that I can swing the workpiece around.
Step 2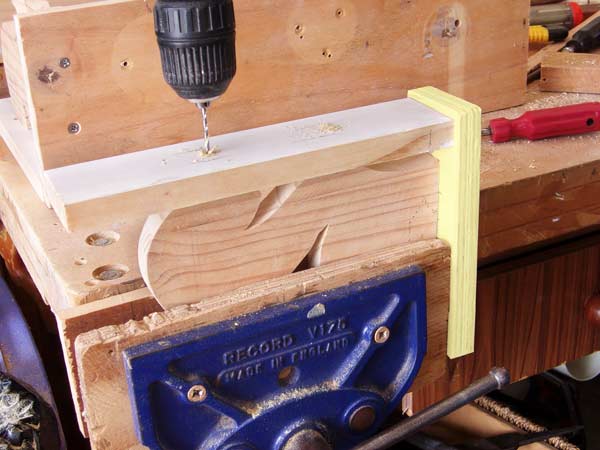 Step 2
Drill a pilot hole as shown in the photo (click to enlarge.) Fix a temporary jig on the base to hold the vertical in place.

In the photo, the temporary jig is shown as yellow.
Step 3
Step 3
Remove the temporary jig, and with the squirrel laying on it's back, drill two pilot holes into the underside of the shelf.
Drill a hole near the top of each vertical support batten.
Depending on how you are going to fix the shelf to the wall, and the type of wall, it may be best to speak to your friendly hardware supplier for advice on the best way to do that.

More easy woodworking projects
How to build a corner bookshelf

| | | |
| --- | --- | --- |
| How to build a corner bookshelf | Cutting list from one board | How to measure the angles |
Click on the image to enlarge. The first image shows a screenshot of the request from Reddit.
The second image shows the cut list from one board. you could show this to your local timber supplier and ask them to cut the board to size.
The third images shows you how to measure the angle. This is what I would do:
Step 1. Mark the sizes of the squares. Because the sizes shown are nominal, your board dimensions  may vary slightly. Make allowance for the width of the blade. Cut the board in half.
One thing to bear in mind when laying out the measurements is that the ends of the board may no the a square as it should be, so you may need to square that up.
Step 2. Rip the remaining board in half. If you are using a table saw, it is entirely within the realms of possibility that the cut will be quite clean, unlike using a hand saw, which will need a hand plane to clean up the saw marks.
Step 3. This is where the third image should be self explanatory. Here is where I would use a sliding bevel to record the angle and transfer it to the other boards.
Make simple toys with a scroll saw
Free plans to build a rocking horse ornament - a small scale version of Andy. Easy scroll saw project.
I made this one using scraps of MDF and painted it with acrylic paint.
A doll size rocking horse in the shape of a Vespa scooter. A simple scroll saw project. 
Also made it with MDF scraps, looks pretty in pink.
Desktop easel for your photos
Here is a perfectly simple and easy woodworking project you can make in less time than it takes to make a cup of coffee.
I made this display easel with bits of wood rescued from an outdoor umbrella. 
Artist easel display stand
Another useful project you can make on a budget is this artist easel display stand. 
I made this with lengths of 65 x 19 project timber and a piece of cord.
Make a spice rack for your kitchen
Another easy woodworking project for beginners that you can make using scraps of wood.
Every kitchen needs a spice rack, and you can make this one using hand tools.
A few gift project ideas
Keep your books organise with this cute pair of bookends woodcraft project.
Something that is easy to make with a scroll saw or even a jigsaw.
Another useful handmade gift item you can make.
This woodcraft project waste paper bin, with it's decoupage finish and would be a valuable addition to any home.
Ask me anything
Ask me anything, post a comment, upload up to 4 photos of your projects.

Let me know what you think.

If you have seen a picture in a magazine or have a photo of something you would like to make, upload it here and maybe, just maybe I can help you.

Even better, there may be someone else out there that can help you too.