Toy Truck Plans
These free toy truck plans are designed to be as simple as possible, using standard wood stock available at most hardware stores.

Making toys for children of all ages is a very rewarding pastime.

Making wooden toys for your family or special friends are more appreciated than anything that you can buy in a shop. It will always have a special significance to your children and grandchildren, because this was something that Dad or Grandad made. 

Could there possibly be a better gift than such a toy made specially for your children, grandchildren, nephews and nieces? They would all appreciate your efforts.

Part of the attraction of wooden toys is in fact the lack of detail that stimulates the child's imagination.

Tipper trucks, sometimes called dump trucks, are popular with young engineers, because they carry loads, offload cement, concrete or sand, and remove rubble from the building site and dump it elsewhere. 

This set of free plans come in a range of sizes, from the large lever operated vintage toy truck measuring 18 inches long and 6 inches wide.
The mid size dump truck at a little over half size at 9 inches long and 4.5 inches wide. The smallest of the three comes in at 4.5 inches long and only 3.5 inches wide is designed to get in and out of tight spaces.
Five Toy Truck Plans
Free wooden toy truck patterns for toy dump truck Mk1 which measures almost 18 inches long and a bit more than 6 inches wide. Made from half inch stock, it is light but sturdy. Features full size patterns and step by step instructions with photos.

Toy dump truck plan Mk2 is about the same size, measuring about 235mm [9.3 in.] long, 145mm [5.75 in.] high and 115mm [4.5 in. ] wide.

Mini Toy tipper truck plan Mk3 measures 250mm [10 in.] long by 115mm [4.5 in.] high and 90mm [3.5 in.] wide.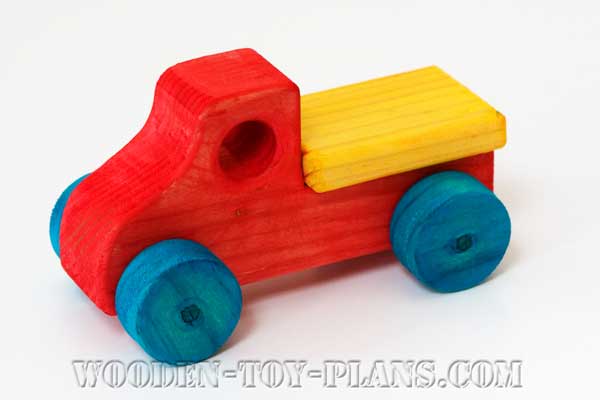 Micro Dump Truck Plans
Don't be fooled by it's diminutive size. This super micro truck can certainly hold it's own. For starters, it can get to places where other trucks fear to go.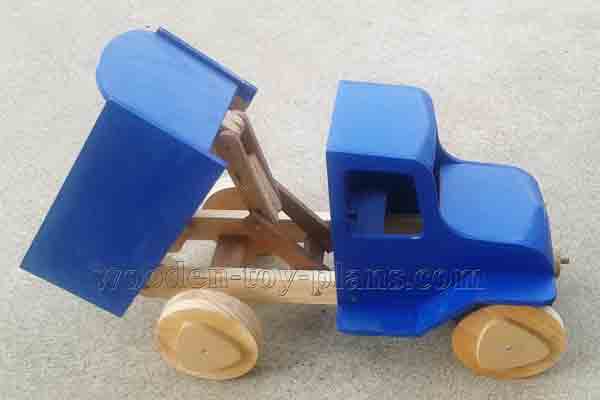 Winch Operated Dump Truck
Keep the best for last.
This unique winch operated toy dump truck, easy to build with basic hand tools and stock timber.
Winding the crank handle in the operates the lift mechanism.
A Sketchup model of a farm truck that you can view and download.
Forums are a great place to meet and discuss your wooden toy projects.
Making Wooden Toy Wheels
For this toy dump truck, I made my own wheels using a circle cutter mounted in a drill press.
It may be easier to buy ready made toy wheels. 
A selection of from Ebay. Includes wagon wheels, spoked wheels and wheels with treads.
Digital Download Toy Truck Plans
Free Digital Download Toys for Boys Project Plans to make trucks, planes, trains, cars, a multi storey toy car garage, wooden toy motorcycle and earth moving construction toys.
Have you made a wooden toy truck?
Showcase your wooden toy truck project here.
Toy Trucks Projects From Other Visitors
Click below to see what other woodworkers have made.