Toys For boys
How to make awesome toys for boys. These plans are free to download.  Complete with full size patterns, photos and step by step instructions.

All of these wooden toys have been designed to be made with basic tools. They make great gifts and sell well at markets.
Toy Car Garage
Looking for somewhere to park your car? Build this three story toy car garage. This design includes a winch assembly to lift the toy cars to each level.

Toy Trucks
Lever operated toy dump truck lorry. 
I found this plan browsing the internet, as you do. I thought it would make a fun wood crafting project.
I have more fun making wooden toys than I would playing with them.
The lever is used to keep the tray up. There is a small notch in the tray to keep it in place. 
Winch operated toy truck plans. Watch the video of the winch in action. It has a unique scissors mechanism to lift the back just like the real thing. I have used the same principle found in many hydraulic lifting arms. 
Instead of hydraulics, I substituted a winch. I do have an idea for a hydraulic system, but that's an experiment for another time.
Micro flatbed truck. Don't be fooled by it's diminutive size. This little mite can go all day and everywhere.
Earth Moving Construction Toys
Wooden earth moving construction toy plans free download includes step by step building guide with photos. Make them all, you only need a few scraps of wood left over from other woodworking projects.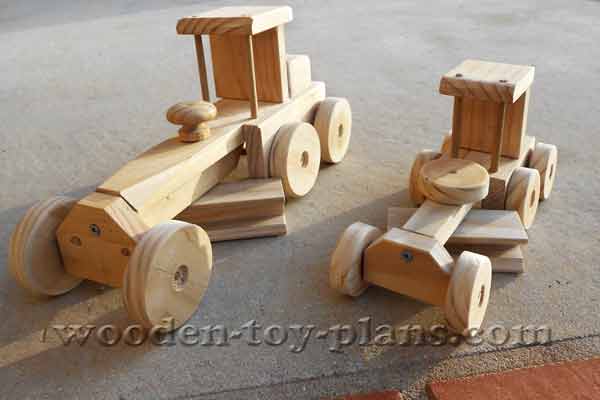 Road Grader
Build these wooden construction toys to add to your collection. With this free printable PDF, you have two sizes that you can build.
Here is the essential heavy equipment you need to build a road. This road roller can be made in two sizes.
View the earth mover construction toy in the Sketchup application.
Toy Cars
Turn your bits of scrap wood into amazing toys.
Batmobile rocket powered car, Roadster Wooden toy car plans,
Sedan wooden car designs,
Racing toy car plans, 4x4 Off road wood toy car.
Read more about free wooden toy car plans.
Toy Trains
Toy train plans with a secret compartment.
Wooden toy train model based on a 18th century switching engine.
A quarter scale version of the backyard toy train project that is featured in the Popular Mechanics magazine.
Read more about free toy train woodworking plans.
Wooden Toy Airplane
Really cute wood toy biplane This is an easy to build woodworking project using only basic woodworking tools.
Easy woodworking project designed to be made with scrap wood and basic hand tools.
If you have access to a wood lathe, you could make a round fuselage shape.
Using the same plans, I simply left the top wing off and painted the wooden toy with food colouring.
Read more about the wooden toy airplane and download the plans.
Model Airplane Plans
How to make toys that can actually fly. I am making a collection of my favourite model airplane plans.
Vintage toy airplane plans from the really old Aeronautics magazine.
Wooden Toy Motorcycle
The unbreakable wooden toy motorcycle plan. Also great for giving a massage, if you make little knobbly wheels.
A variation on the wooden toy motorcycle is this four wheel quad bike, part of the motorcycle plans.
Did you know Batman also had a motorbike?
How to make your own wooden toys wheels.
More Fun With Furniture Trolleys
How I built a homemade electric scooter using a furniture trolley.